Hiring a UI designer? Need to know how and where to find the best candidates? Here is a comprehensive guide to finding the best UI designers. Read on!
A UI / UX Designer is crucial to the process of seeing a product come to life. They help you evaluate the workability and usability of your product and test it before it reaches the users. The user interface designer description includes ensuring every step and every page that users come across while interacting with the final product should be smooth and hassle-free.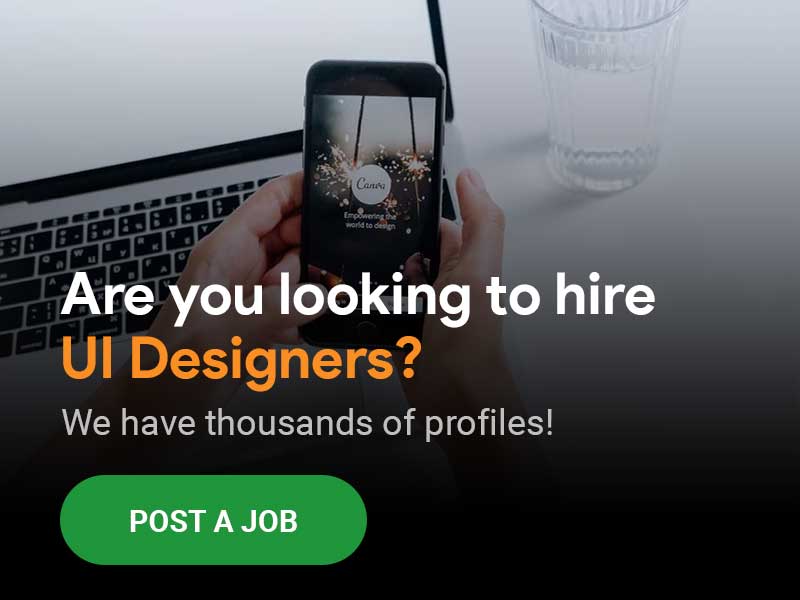 This article will help you understand why you should consider hiring a UI interface designer and what steps to take for hiring the best one for your project including essential information like interview questions, hiring process, qualities and skills to look for, etc.
Also Read: Hire Social Media Manager | Everything you must know
Market for UI Designer
The United States is one of the leading locations for design talent and is known for a high quality of design by freelancers and design agencies. The U.S Bureau of Labour Statistics indicates an increase of 3% in the demand for UI designers through 2028. CNN Money has predicted a growth of 18% in the demand for UI and UX designers from the year 2015 to 2025.
The United States, United Kingdom, Canada, China, Sweden, Japan, Israel are some of the best countries to settle down as a designer in terms of money and opportunities. InVision's "Product Design Hiring Report" reveals that 70% of the managers increased the design professionals in their teams.
The report also predicts a 21% increase in their design teams in the future. A career in UI and UX design is very happening as you get to dive into user's minds and generate something innovative that users would find helpful. Several niches in the UX market help designers to experiment and innovate.
The increase in companies aiming for a healthy user experience for their apps will keep UX professionals in demand in the future. Many countries are seeing an increase in demand for UX professionals that outweighs the supply. Skilled and talented UX professionals are highly sought after in the job market.
Also Read: Hire Customer Service Representative | A comprehensive guide for beginners
Things to note while hiring UI designer
If you are looking to hire user interface designers, there are certain things to be kept in mind while hiring someone. We have prepared a list of ten things to note while hiring a UI Designer,
Check if the candidate seems curious about your company and the project or website user interface design in general. A passionate candidate is more likely to be productive and innovative in work.
Have a look at the candidate's portfolio. Ask questions to understand more about the working style and thought process of the candidate.
Know more about what kind of tools the candidate prefers and what is their workflow.
Candidates should be good at putting forth ideas and explaining them in detail. Good communication skills in a web interface designer are essential.
See how well they can adapt themselves to changing demands coming from clients or teammates.
Evaluate their design skills whether they are capable of producing design-impactful and user-friendly work.
Find out their approach for research and user insight. They need to have an understanding of when testing and research come into play along with strong UI skills.
UI developers work individually and in teams hence the candidate you are hiring should have collaboration abilities.
IX UX professionals should be able to innovate and implement new ideas in their designs to create fresh and interesting outcomes.

Note if the UI designer has knowledge of tools and KPIs and which ones is the candidate most familiar with.
Also Read: Hire Java Developer | A priceless list of tips to succeed
Qualifications of best UI designer
A bachelor's degree in computer science, information management systems, or engineering is beneficial but not mandatory to become a UI developer. Prior knowledge of coding languages is also helpful when trying to learn UI designing.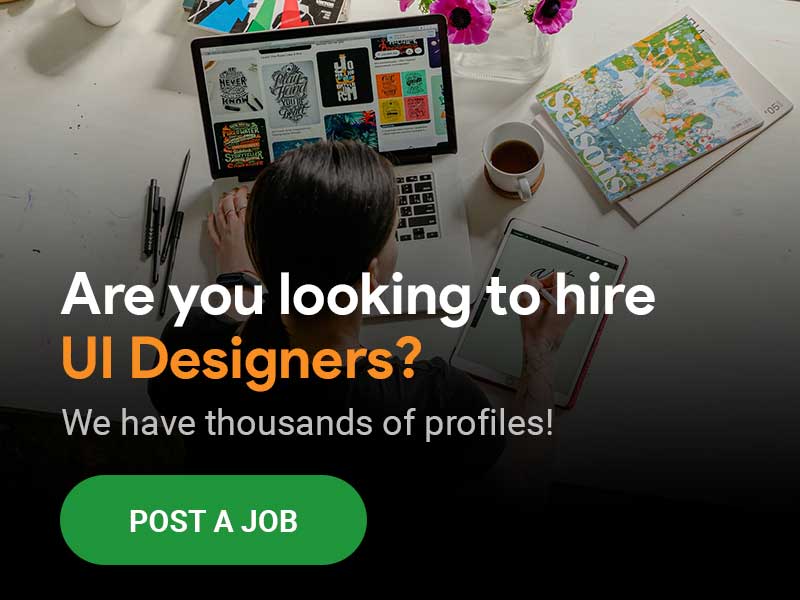 There are several online and offline courses available to help you learn UI designing whether you are a beginner or already acquainted with the design elements a little. Several top universities like MIT, U.C Berkeley, Cornell, Cartech, etc are offering introductory python courses to their students.
Online learning sites such as Udemy, Coursera, code academy are offering certification courses in UI. Apart from learning UI programming, one should also master web frameworks such as Django, Flask HTML, and CSS. Acquire relevant work experience in coding and development by taking up personal user interface design projects, UI designer freelance projects, participating in online forums, etc.
Experience is valued more than educational qualifications in UI as most of the developers are self-taught. Create your GitHub page to showcase real-time projects to recruiters and build your portfolio. Strong unit test and debugging skills are required to qualify as a good UI developer.
Also Read: Hire Javascript Developer | An ultimate read for best results
Skills and qualities to look for in UI designer
Here is a list of technical skills that you should look for in a candidate before hiring them,
Visual Design Skills

in a candidate are desirable along with experience in designing user interfaces. 

UX Research

is needed to create a mobile app or website that users find helpful. From cognitive psychology to computer science there is always something to use in designs.

UX Writing

is an ever-growing role in UX as it always forms part of a copy.

Coding

is becoming a requirement for designers to get a technological perspective of design. Languages like CSS, HTML, jQuery, Javascript are some of the most common ones.

Project Management skills

help in planning and executing a project keeping the client's requirements and needs in mind.
Soft skills to look for in web UI designer before hiring is,
Communication Skills

are essential to

UX/UI designers

to interact with investors, clients, colleagues, etc. They should also be capable of conveying design ideas to non-design people.

Analytical Skills

are required to have an understanding of numbers, percentages, graphs, and statistics to help you check design performance.

Critical Thinking

helps designers to differentiate between what looks good at face value and what is beneficial for the

top user interface design.
Curiosity

is an attribute essential to

UI/UX designers.

It helps them to stay updated with the latest technology and trends.

Empathy

helps

UI design consultant professionals

to get into the shoes of end-users and understand their needs to make a better design.
Also Read: Hire iOS Developer | A how-to guide for beginners
Certifications to look for in UI designer
If you have ever asked how to be a UI UX designer, we have listed down the best certifications to look for in UI designer,
CareerFoundry UX Design Program

is ideal for beginners who are looking to start a career in UI design. It is an online course that takes you through all the tools and skills required in the field.

Springboard UX Career Track

is for those who are interested in learning both UI and UX design. To enroll in the course it is mandatory to clear a basic evaluation of visual skills, analytical thinking, and ability to empathize.

DesignLab UI Design Short Course

is for mid-level professionals with design experience but looking to further hone their UI skills.

General Assembly Visual Design Course

is an 8-week beginner-friendly course for people wanting to learn UI design fundamentals without committing to it for a longer duration.

Ironhack UX/UI Design Bootcamp

combines both UX and

top UI interface designs

. It has no prerequisites to start the course hence making it easier for beginners.

Nielsen Norman Group UX Certification

is for those professionals who wish to add UX design to their skill set and get certified as an expert by gaining credibility.

Flatiron School UI/UX Design Course

helps in launching a career as a designer. It is the most expensive of the lot and needs a six months commitment to finish the course.
Also Read: Hire Graphic Designer | Know before you start
UI Designer rate per hour
Are you wondering how much UI creators make in different regions of the world? The UI creator hourly rate varies based on the region where you are hiring from. The rates in the United States are the highest whereas Asia offers the lowest rates for designers.
The quality of the designer, however, doesn't depend on the rates and one should explore the market before making the hiring decision. Based on your user interface design project decide if you want to hire a contractor or a full-time employee. The rates differ on what kind of role you are offering to the employee.
A designer in the U.S gets up to $150 per hour for their services while a designer in Asia is available for as low as $25 per hour. European designers in the east have fairly lesser prices as compared to the west with designers charging from $25 – $50 per hour. Western Europe has high rates ranging from $50 – $100 per hour.
A designer in the U.S with an experience of 0-5 years earns an average of $61k annually and a more experienced designer gets an average of $73k annually. After 10-20 years of experience, a designer is expected to get around $83k per year. 
Also Read: Hire Technical Writer | A complete guide
Places to find best UI designer
Top places to find the best UI designer,
Toptal

is a freelance platform motivated to match

UI designers

to clients with business needs.

Upwork

is the biggest market for freelancers where you can

hire UI designers

on a project basis.

Dribbble

is a platform for designers available for full-time, part-time, and freelance positions.

Envato Studio

helps you explore pre-priced packages created by designers that you can purchase as per your requirements.

Working not Working provides a curated matching service between UX UI designers and prospective employers.
Behance is Adobe's platform that allows its users to show Adobe-related work in their portfolio.
People per hour present a "hourlies" feature to hire UI experts directly at the set price.
unremot.com provides the best UI designers for freelance, remote, part-time, and full-time positions.
Freelancer also allows users to hold contests and select the top UI designs.
Fiverr provides UI and UX designs at a low price. It provides access to top UI designers.
Also Read: Hire Data Scientist | Everything you must know
Top 10 companies hiring UI designer and salaries
The top 10 companies hiring UI designer and salaries are,
Intuitive

develops and markets robotic products used in healthcare systems. It is offering

UI interface specialist

positions

at $166,678 annually

.
Agilent technologies

deliver complete scientific solutions for labs and clinics. It offers

UI consultant

roles at a salary of $141,578 annually

 
TEAGUE

is a global design consultancy offering

UI designer job

at $125,721 annually

Captech Consulting

helps its clients grow a successful and efficient business. It has the

top UI design

position at an annual rate of $106,953.

Nelson

offers transport packaging solutions to its clients. They are hiring UI designers at the rate of $103,333 annually.

Talener Group has

a team of technology staffing experts looking to hire a

UI expert at $104,354 annually.
Jumpcut

creates captivating online courses for budding entrepreneurs. They offer a salary of $115,274 annually to its UI designers.

Sleep number

is a U.S based manufacturer known to make Comfortaire beds and bedding accessories. A

UI and UX designer

is offered $115,739 annually.

Capital one

offers banking services. It has UI openings at a salary of $115,594 annually

Sphere

provides tools and ingredients to online publishers to help engage their users. It offers  $116,417 annually to UI designers.
Also Read: Hire Data Analyst | A comprehensive guide for beginners
Steps involved in hiring best UI designer
1. Choose what kind of designer are you looking for? 
Based on your project needs decide whether you want to hire
A freelance UI designer on a contract basis

Full- time designer for your projects

Give the project to a third-party company handling your design needs
2. Use workforce planning to figure out your designer requirements 
Plan your designer needs in terms of what skills you are looking for, single hire or multiple hires, what is your budget, what will be the role, etc.
3. Create a detailed job description 
A good job user interface description should be unbiased, clear, and descriptive with an emphasis on your company culture. Describe the specific requirements and responsibilities expected from the designer.
4. Post the jobs in the right places
Post your UI UX designer job opening in different online and offline job portals, social media groups, etc. We have listed the best places to find designers to hire for your project in this article.
5. Evaluate candidates through the interview process
Ask relevant questions during the interview which helps candidates to show their strengths and clarify any doubts they have regarding the job position. Check both the technical and soft skills of a candidate during the interview.
6. Make an offer 
Once the interview process is over you have found your perfect match and ready to extend an offer to them. Write an enticing job offer letter to finalize the deal officially.
Also Read: Hire Content Writer | A priceless list of tips to succeed
Top 10 interview questions for UI designer
Here are the top 10 interview questions for UI Designer,
1. Please describe your normal design process?
Rationale – To assess the applicant's ability to fit on any established web design team.
Sample Answer – I start my design process by asking my clients for their expectations. The next step is to review visitor feedback and create thumbnails and digital wireframes for the website based on that information. The final step is to show the design to my client and take feedback. Once approved, I test it on a practice website, and once finalized it goes to Live.

2. Could you share the latest trends in the UX design industry?
Rationale – Helps to look for a candidate's passion and interest.
Sample Answer – There is no wrong answer to this question. Listen to several places the candidate lists to gain their UX knowledge and learning.
3. Walk me through a design example where you were able to solve a problem?
Rationale – To understand more about their working style.
Sample Answer – First the candidate will talk about discovering the problem. Second, they will evaluate business goals, use case scenarios, prepare UImodelling, and how to best align them to find a solution. Last, They will explore potential solutions by using tools.

4. How would you diagnose a slow website and resolve the issue?
Rationale – To evaluate the applicant's process and troubleshooting skills.
Sample Answer – I would use a link analysis tool to check if there are any dead links on the website. I will also check the code on each page. To resolve this issue I would link similar pages to one CSS sheet and simplify the coding.
5. Have you faced negative user feedback? How do you deal with it?
Rationale – The question is to test how the candidate reacts to negative feedback.
Sample Answer – One time the app I designed got 1-2 stars from the users claiming that the site is unresponsive. I talked to a few users to understand their external environment and figured out that the app was too big for certain phone operating systems. I revised my coding and resubmitted the app which turned out to be working fine later.

6. What analytics tools and KPIs have you used for design analysis?
Rationale – To check candidates' knowledge of tools and KPIs.
Sample Answer – A candidate should mention one of these analytics tools such as eye-tracking, click tracking heatmaps, and UI tagging. More importantly, they should mention the reason why they prefer that particular tool or KPI.

7. What makes a great UX Designer?
Rationale – The answer will help you understand what kind of UX person will you be hiring.
Sample Answer – A top UX Designer should balance business goals and technical constraints to provide the best user experience to clients. They should know when to conduct surveys, take feedback, conduct testing, interview users, etc.
8. What are some of the challenges you face as a UX designer?
Rationale – Look for problem-solving skills in times of crisis.
Sample Answer – Listen to their problems which could be either they had a hard time convincing the client of the budget, or they might face difficulty while collaborating with other members. Also, look for what steps they take to resolve this.
9. Describe a time when you had a hard time working with a team.
Rationale – To understand team working skills in the past.
Sample Answer – We had to work in a team of four people all located remotely. We faced a challenge to communicate with each other. Conferencing software helped us overcome the issue and schedule one-to-one meetings.
10. How did you get to know UI design?
Rationale – To assess if the candidate has the right and comprehensive knowledge of UI design.
Sample Answer – I am studying UI from <certain website> and <certain app>. To further enhance my knowledge and stay up to date I follow <blogger name>, <Facebook group>, or any other channels.
Also Read: Hire Web Designers | An ultimate read for best results
Top 10 tools to use while hiring UI designer
Here are the top 10 tools to use while hiring a UI designer,
Applicant tracking systems – Applicant tracking systems such as TribePad enables recruiters to handle hiring and recruitment needs. It acts as a database for potential job applicants.
Mobile recruiting tools – With an increase in the percentage of people owning smartphones, the usage of mobile phones in recruitment has increased. Telephonic interviews are used by recruiters as the first level of shortlisting.
Collaborative tool – Collaborative tools help in interacting internally between recruiters, hiring managers, and recruiting agencies.
Gamification – Gamification developers such as ConnectCubed helps in building games to assess candidates on their soft skills such as communication, analytical skills, creativity, etc.
Video conferencing tools – Video conferencing tools such as Skype, Zoom is required to interview candidates remotely. This is a good way to shortlist candidates without calling them for face-to-face interviews.
Location technology – Geolocation helps in targeting potential employees by tracking their mobile and computer systems and alerting them to relevant job vacancies.
Internet sourcing – Social and professional networks such as LinkedIn, Facebook, Twitter, XING, etc are great sourcing tools of the trade for hiring professionals.
Textio – Textio is an augmented writing tool used to write descriptive, enticing, and unbiased job descriptions. Its natural language processing system suggests text correction if any.
Calendly – Calendly helps users to schedule interviews by seeing other people's availability. Simply send a link invite by setting your availability and wait for the other person to accept.
Job aggregators – Online job aggregators such as Upwork, Freelancer, Fiverr, etc provide graphic UI designers for all kinds of roles and requirements.
Also Read: Hire Database Engineer | A how-to guide for beginners
Dos and donts while hiring UI designer
Do have a method to assess candidates

Do look at their portfolio to understand their working style and past projects.

Do ask the right questions which are relevant to the position during the interview process.

Do check the relevant experience.

Do trust your gut while making the hiring decision.

Do ask what kind of

user interface designer you want before starting the hiring process.
Do have a realistic budget in mind.
Develop a project timeline to check for how long you need a designer.
Do post on several places to hire the best talent.
Use professional help to create an enticing job description to hire designers.
Do not hire anyone on a whim to save time. Hiring the best will take some time and effort.
Do not skip design exercises. It is essential to assess a person's problem-solving skills.
To hire UI designers do not solely rely on portfolios.

Avoid calling everyone for face-to-face interviews. Do the first round on a video call and invite shortlisted candidates for face to face round. 

Do not hide anything from the candidate and try to be transparent about the role and expectations.

Do not hire someone lacking empathy.

Do not hire a candidate who doesn't have good communication skills.

Avoid hiring people who are unable to work in a team and do not possess collaboration skills.

Do not go hiring a candidate without educating yourself about the different roles and responsibilities of a UI designer.

Do not merge several job roles into one.
Also Read: Hire Database Administrator | Know before you start
How much does it cost to hire a Ui designer?
The cost to hire a UI designer depends on factors such as location, job requirement, years of experience, skill level, and whether it is a freelance or permanent role. A freelance UI UX designer gets paid an average of $15- $20 hourly whereas the annual salary may come approximately to $51,162.
How do I hire a UI designer?
UI designer is extremely important these days and when done right it can give a major boost to your product's user experience. Before hiring a UI designer see if you want to have someone for a part-time role or a full-time job. To hire the best talent, prepare an awesome job description, shortlist candidates based on resumes, ask the right questions in the interview, and seal the deal by signing a contract with the selected applicant.