Hiring a graphic designer? Need to know how and where to find the best ones? Here is a comprehensive guide to finding the best graphic designers. Read on!
Graphic designers are creative professionals employed in companies specializing in printing, and publishing in electronic media. A graphic artist curates innovative graphics and design embedded into images for creating brochures and advertisements for promotion.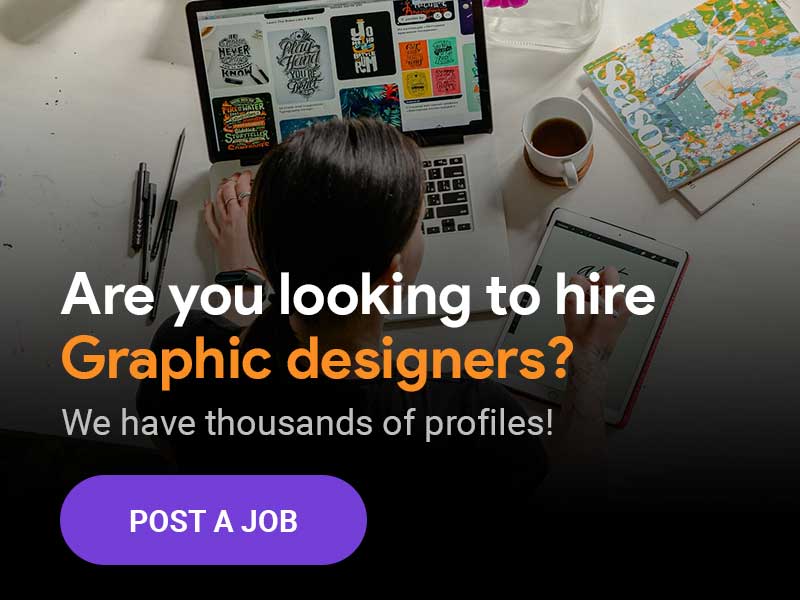 Companies prefer hiring top graphic designers to design their visual communications, targeting the potential audience. A common question that pops up in the mind of recruiting managers is, "How to hire a graphic designer?" After all, hiring a graphic designer involves investment and fulfilling future projects.
In this article, we will address the question with elaborate and detailed facts and figures, along with information on how to find a graphic designer suited for your organization.
Also Read: Hire Technical Writer | A complete guide
Market for graphic designer
Graphic artists are facing stiff competition with the advent and emergence of digital technologies. The US Bureau of Labor Statistics hence has predicted a low growth of 4% through the year 2026 on the jobs of graphics freelance designers.
The growth is slower in comparison to the other occupations and jobs. However, the average annual salary of a freelance graphic designer is high about USD 55K. The pay structure is comparatively higher than the other prominent jobs.
In the US, interestingly, the annual salary of an experienced graphics designer is as high as USD 71K the District of Columbia. The other US states where the annual graphic design freelance rates are lucrative, are New York, Massachusetts, California, Connecticut, Virginia, Washington, Alaska, New Jersey, Rhode Island, and Maryland.
The freelance designer rate varies between USD 65K to USD 59K per annum. In the other states, the graphic design fees are less ranging from USD 39K to USD 65K per annum.
The states which have experienced higher growth in freelance graphic design jobs are Alaska, Idaho, Arizona, South Carolina, and Mississippi. Almost more than 16.3 % increase has been noticed in professional graphic designs jobs.
Also Read: Hire Data Scientist | Everything you must know
Things to note while hiring graphic designer
Before hiring a graphic designer, it is important to understand a few key things or pre-requisites. In this section, we will discuss the top 10 things to note for hiring top graphic designers,
Verify the past experience of the graphic designers for hire. The roles performed by the candidate must be in sync with your expectations
Check the innovative capability of the candidate while hiring graphic designer specialists.
Seek a work sample for example a brochure or banners designed by the candidate to check the competency
Connect with the references mentioned in the resume when you decide to hire a freelance graphic designer
Verify the domain knowledge of the graphic designer profile related to your company brand
Set the expectations to the freelance graphic artist before sending out the offer letter
While recruiting a local graphic designer, a face to face interactions are important. For hiring remote freelance graphics designer, a video call is essential
Check the changing graphic design rates 2016 till date and offer the salary in similar lines
Scan through social media handles of the professional graphic designer and blog forums too
Validate the time management abilities while hiring graphic artist for your company
Also Read: Hire Data Analyst | A comprehensive guide for beginners
Qualifications of best graphic designer
While hiring the top graphic designer for your company, it is vital to seek proof of educational qualifications. The list of valid degrees in professional graphic designing are,
Associate degree in graphic designing or similar field
Bachelor's Degree in graphic designing or similar field
Master's Degree in graphic designing
Here are the top US schools and universities to acquire the degree for being a professional graphics designer,
The University of Pennsylvania, located in Philadelphia, has a Fine Arts department
The University of Florida has a department for the School of art and art history
Boston University has a department for fine arts offering both BFA and MFA in graphic design
Carnegie Mellon University offers 8 courses for best graphic design jobs in its school of graphic design
The University of Miami in Florida has a department for art and art history
Rhode Island School of design which requires a freelance graphic designer portfolio submission
Rochester Institute of Technology has a department for Imaging arts and sciences.
Maryland Institute College of Art has a department for graphic design
The University of Minnesota providing undergraduate and graduate courses for a designer profile
Yale University provided a program for art graphic design
Also Read: Hire Content Writer | A priceless list of tips to succeed
Skills and qualities to look for in graphic designers
Hiring best graphic designers demand verification of both technical and soft skills. Here is a list of the top skills to be validated while hiring a graphic designer,
Proficiency in graphic design tools like Photoshop, InDesign, Illustrator etc.
Expertise in leveraging MS office product suite, HTML and Adobe Creative Suite
Good to check UI/UX design and programming skills as additional qualities
Past experience of executing similar projects as an online graphic artist
Educational qualifications especially a Bachelor's Degree in professional graphics design
Excellent written and verbal communication skills
Planning and organizing skills for timely delivery of webgraphic designer or any other designer projects
The graphic designer freelancer mainly work in remote locations at their homes or co-working space. They must be capable to handle majority of their work independently.
Check whether the graphic designer for hire is able to interact comfortably and easily leveraging the audio and video conferencing tools.
An online graphic designer must be aware of the latest trends and developments in graphic designing
Also Read: Hire Web Designers | An ultimate read for best results
Certifications to look for in graphic designers
Besides educational qualifications, you must check for additional certifications obtained when you hire freelance graphic designer professional. The key certifications to check while looking for graphic designer,
Graphic Design Certification program by California Institute of Arts (CalArts), comprising of 5 courses for a duration of 5 to 6 months
Udemy course – Graphic Design Masterclass conducted by Lindsay Marsh, popular for graphic designer online jobs
Graphics Design specialization offered by University of Colorado Boulder for 3 months
Udemy course – Graphic Design Bootcamp conducted by Derrick Mitchell for a duration of 15.5 hours
Lynda, LinkedIn learning, provides 11 courses on graphic design with certifications with a total duration of 22 hours
UI/UX Specialization program by CalArts for 8 months
Udemy course – Adobe CC Masterclass course for 13 hours
Udemy course – Illustrator CC 2020 masterclass by Martin Perhiniak for 12.5 hours
Also Read: Hire Database Engineer | A how-to guide for beginners
Graphic designer rate per hour
"How much does a graphic designer make an hour?" – A very important question asked by companies hiring a graphic designer. It is essential to understand the hourly graphic designer price list of various experience levels and in different regions of the world.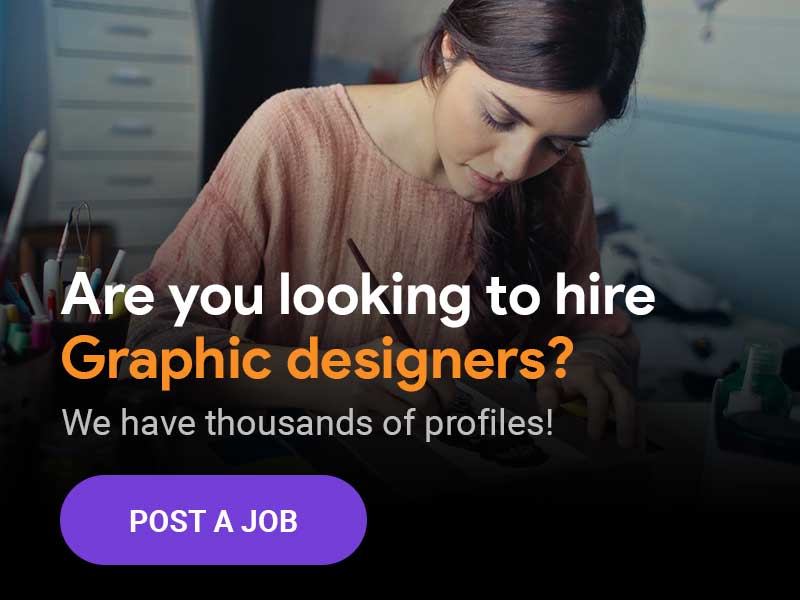 In the US, the freelance graphic designer hourly rate for a junior varies between USD 28 and USD 30. A mid-level graphic designer hourly wage varies between USD 35 and USD 45. Whereas freelance design rates of a senior professional lie in the range of USD 45 to USD 60 per hour.
In the UK, junior level graphic designer rates vary between USD 25 and USD 34 per hour. Middle level hourly graphic designer freelance rates are between USD 35 and USD 47. And for seniors, the rates are as high as USD 69 per hour.
How much do freelance graphic designers make in Asian countries like India and Philippines, known for outsourcing? The graphic design pricing list from the APAC region also varies on the years of experience and skill level.
The hourly rate for graphic designer at junior level varies between USD 9 and USD 15. Whereas the freelance graphic design pricing for seniors can go up to USD 50 per hour.
Also Read: Hire Database Administrator | Know before you start
Places to find best graphic designer
"Where to find graphic designers for my company?" – A common question of companies who need a graphic designer for their projects. Here are the top 10 places to search for graphic designers,
Upwork, a popular job board in the world, which has 30,000 profiles listed for graphic design contract work and freelance job.
unremot.com, a comprehensive website to search when you need graphic designer skilled specialists
Freelancer to find designers online from their huge profile list
Fiverr to find a graphic artist for hire. You can check for the individual graphic designer hourly rate from the profiles
99designs, a platform where you can submit projects and select the best graphic designer with the desired pitch
Toptal, assists in selecting the best designers for hire as per your freelance graphic designer job description
Guru, where you can hire a designer by searching through profiles or submit job opportunities
PeoplePerHour, a website where you need to submit the project details. You can hire graphic designers whose quote is acceptable.
Dribble, comprises a team that helps you to find freelance graphic designer by matching your project requirements with the registered profiles
DesignHill, a website where you can run contests, opt for graphic artist hiring services, or hire freelance designer
Also Read: Hire Bookkeepers | A complete guide
Steps involved in hiring best graphic designer
Now when you have understood how much do graphic designers make per hour, and how to hire graphic designer online professionals, the next task is to understand the key steps to be followed while looking for a graphic designer.
Write out the Job description with clear duties and responsibilities and expectations before initiating the process of hiring a graphic designer.
Prepare the interview questions and answers, focusing on both technical and soft skills while looking for graphic designers
Fix the average freelance graphic design rates, depending on the roles, mode of employment, location and years of experience.
Post your job listings in the websites to hire designer mentioning the job description, the expected salary, location, and mode of employment.
Search for freelance or independent graphic designer in the job boards by scanning through the profiles
Shortlist the graphic and magazine designers after viewing their resume, analyzing their experience and expertise and appropriateness for the roles
Schedule an interview with the shortlisted candidates, comprising of both technical and managerial or HR evaluation
Finalize the candidates to be recruited and circulate the offer letter. And yes do not forget to get the contract agreement signed.
Also Read: Hire Software Developers | A comprehensive guide for beginners
Top 10 interview questions for graphic designer
Questions are vital while hiring a graphic designer, to judge the suitability and credibility of the candidate. Enlisted below are some of the key questions for your reference,
1. How to be a freelance graphic designer and the qualities required?
Rationale: To check the vision of the candidate towards the profession.
Expected Answer: Ensure the candidate is able to demonstrate the relation of the company's vision and the project's objective towards the design
2. What are the major steps in your design activities?
Rationale: Illustrates the past experience and knowledge level of the candidate
Expected Answer: If the candidate specifies about understanding the objectives and problems, and data collection, you can tick mark the person
3. Mention your collaboration techniques with developers, copywriters, project managers, etc.
Rationale: Assists in understanding the interpersonal skills of the candidate
Expected Answer: Check if the candidate is able to elaborate by showcasing examples and past experiences to be suitable for recruitment
4. How do you design a new logo?
Rationale: To check whether they can align a company's brand visibility with the logo design.
Expected Answer: If the candidate mentions about understanding the company's brand, potential customers and sync up the logo with them, you can consider the response as correct.
5. What are your key considerations of working remotely?
Rationale: This will showcase whether the candidate can work independently.
Expected Answer: The candidate must be able to demonstrate the collaboration techniques and remote communication mechanism to be considered for the recruitment
6. How do you measure the performance of your design?
Rationale: Important question to judge the candidate's credibility in measuring the success and seek improvements in the design
Expected Answer: Check whether the candidate is focusing on user feedback, click-throughs or conversion rates for measuring the performance.
7. Showcase an example where the timelines were aggressive and how did you meet the deadline
Rationale: To check the tenacity and potential of the candidate to work under pressure and meet deadlines
Expected Answer: The candidate must demonstrate with an example highlighting the sequence of activities performed for you to consider for the hire.
8. Describe a scenario where you had to face tough criticism for your design and how did you handle it?
Rationale: To check the ability of the candidate to resolve design issues with ease and comfort.
Expected Answer: Try to understand if the candidate's answer showcases the capability to handle constructive criticism and resolve the problems.
9. Which tools have you used for graphic designing?
Rationale: Will help you to judge which tools the candidate is comfortable with.
Expected Answer: Tools like Adobe Photoshop, Adobe CS, InDesign, Illustrator etc.
10. Are you able to design without any detailed specifications from the customer?
Rationale: To check the capability of the candidate to tackle unforeseen situations with smartness.
Expected Answer: The candidate must talk about asking questions to gather data and information from the customer.
Also Read: Hire Game Developers | A priceless list of tips to succeed
Top 10 tools to use while hiring graphic designer
Let us now try to understand the tools that must be leveraged to find a graphic designer.
Job Boards – You can post your graphic design contractor or freelance job requirements in the job boards like Indeed.com, unremot.com, Upwork, Flex Jobs etc.
Assessment tools – Utilize assessment tools like Pymetrics, HackerRank etc. for conducting aptitude tests
Artificial Intelligence and Chatbots – Use digital like Zoom.ai, Textio, Ideal etc. to shortlist candidates via analysis and data collection.
Social Media Platforms – Linkedin, Facebook, Twitter, Reddit etc. are powerful social media platforms to hire a graphic designer.
Tracking system for applications – Use a tracking system to track the applications received from candidates, screening out candidates and other processes.
Recruitment Portal or Tools – Leverage recruitment tools like Yello, SmashFly, Avature etc for communication and collaboration with the candidates.
Audio and Video Conferencing Tools – Utilize audio and video conferencing tools like Zoom, GoogleMeet, Microsoft Teams etc to conduct interviews when you hire graphic designer.
Tools to aid advertisements – Leverage tools like Textio assist in creating the right content for job advertisements.
Onboarding tools – Use tools like Click Boarding, Applicantstack, BambooHr etc. for conducting the onboarding process.
Background Check Tools – Tools like GoodHire, Intelifi, Sterling etc help in background checks of the candidate.
Also Read: Hire Sales Representatives | An ultimate read for best results
Dos and donts while hiring graphic designer
Listed below are the dos and donts for graphic design hire process.
The list of dos,
Check the capability of the candidate in using Adobe, Photoshop etc. for graphic designing
Verify the soft skills of candidate
State concisely and clearly the job expectations to the candidate
Recruit a person with excellent verbal and written communication skills
Hire candidates who are backed by good references and strong credibility
State the vision and objective of your company to the candidate
Verify the prior roles and experience of the candidates
Conduct a thorough background check for security verification
Video or in person interview must be the norm for selecting candidates
The resume details must be validated by asking the appropriate questions
The list of donts,
Never offer incompatible hourly rates to the candidate
Avoid compromising quality on graphic design for hire
Do not recruit a candidate who fails to provide the relevant supporting documents
Never recruit a person without a credible prior work experience
You must not wrongly state the job role and description as it may lead to dissatisfaction in future
Health and insurance benefits must never be stated incorrectly
Salary negotiation must not be avoided as you may lose out on talents
Never be rude or unprofessional while interviewing candidates.
Do not induce a dilemma on the candidate on "How much to charge for freelance graphic design?" Offer the rates yourself
Never forget to ask the question to yourself, "Why do I need a graphic designer?" It assists in selecting the right candidate
Also Read: Hire Accountants | A how-to guide for beginners
How much does it cost to hire a graphic designer?
If you are looking for graphic design students for hire or cheap graphic design workforce, it will cost you almost USD 28 per hour. Whereas if you are interested in hiring a graphics designer at a middle level, the hourly rates are almost USD 45. And for the experienced, it can go up to USD 70 per hour.
How do I hire a graphic designer?
Hiring a graphic designer involves deciding the project to be executed, the roles required, and the job description for each of the roles. Then seek graphic design help by connecting with various job boards or design agencies. Hire candidates, offer graphic design commission and rates and onboard them after the interview process.