Want to hire the best software developers? Here's a list of top 40 software developers, the skills you must look for, and how to hire them!
Hiring a software developer should be done carefully as a good programmer would be beneficial for your company's growth. Making a poor choice can hinder your progress and affect productivity.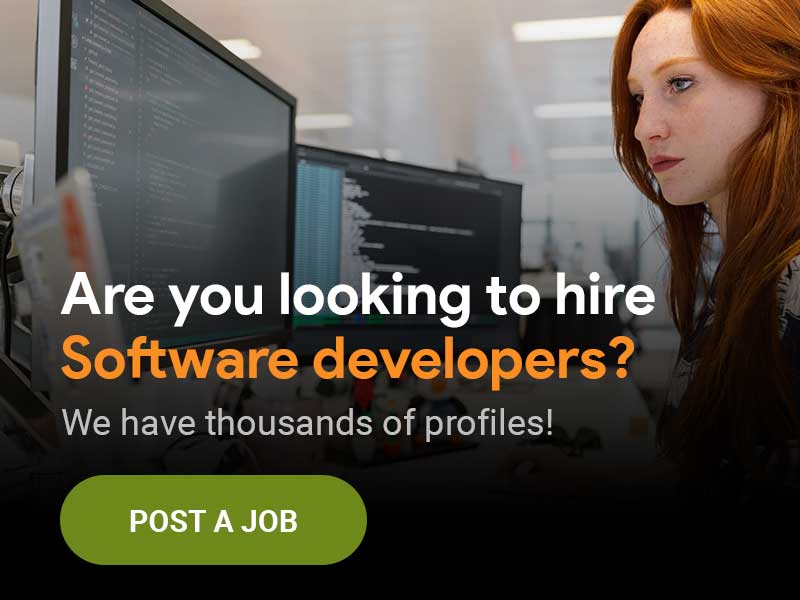 One should know what qualities they are looking for in software dev. This article will take you through the different steps to follow while doing a software hire. Hiring software developer for your company can be a challenging and daunting task.
We have tried to make it easier for you by listing down questions to be asked, qualities to look for, tools to use to find a software engineer that fits your requirements. Check how to become a freelance software developer if you wish to enter this industry.
Also Read: Hire Game Developers | A priceless list of tips to succeed
Market for Software Developers 
The market for software developers is projected to grow by 22% by 2029 according to the US Bureau of Labor Statistics. Due to an increase in companies moving towards websites and mobile applications, a rise in the need for an app developer is estimated at 26% by 2029. Roughly 31000 jobs will be added in the coming decade.
With such a huge prospective market, software developers have a bright future ahead of them. A programmer with the right skill set and experience is highly valued and has a highly rewarding career ahead of them.
The compensation may vary based on location but a software developer on an average gets a good salary package. The U.S has the maximum number of software developers with 4.2 million professional programmers.
It also provides the highest salary to top software developer. Germany has the highest number of software developers in Europe with 901k software developers. UK and France take up the second and third position in Europe.
In upcoming years, this number is bound to grow exponentially and anyone getting trained in software development will have a lucrative career ahead. Software developer freelance openings are on a rise as people are moving towards a remote work culture.
Also Read: Hire Sales Representatives | An ultimate read for best results
Things to Note While Hiring Software Developers 
Are you thinking that I need a programmer to develop a program for me but don't know what to look for in a developer?  Here are 10 things to note while hiring software developers for your project,
1. Team Player
A software developer should be a team player to co-exist with the team. Each person has their approach of writing code and documentation which needs to be in a way that it is understandable to their colleagues.
2. Quick Learner
With constantly evolving technology, a software developer needs to learn new things in a short time. Staying up to date with the latest technology is desirable for the company's success and growth.
3. Self – driven
A software developer should be self-driven to learn new programming skills and ensure their code is perfect by debugging and correcting it constantly.
4. Passionate
See if they are passionate about the job and find programming exciting. Someone who is driven won't shy away from taking up challenging work.
5. Problem Solver
An engineer should be capable of finding the cause behind the issue and prove their efficiency in solving it successfully. 
6. Domain expert
Look for someone with domain expertise and can provide help with your company's specialized demands. 
7. Communication skills
Communication skills are paramount when it comes to hiring a software developer as he/she would be required to communicate with the team. They should be able to communicate complex ideas clearly and concisely.
8. Adaptability
Find someone who should be able to adapt to new programming languages and team culture. They should stay up to date with the latest technology.
9. Curiosity and love for learning
A good software developer would constantly learn and unlearn new things. Love for learning and a curious mindset is desirable as a developer.
10. Accuracy and a keen eye
Look for someone who should be able to pay attention to detail while writing code to debug and fix the problem areas. 
Also Read: Hire Accountants | A how-to guide for beginners
Qualities of Best Software Developers 
How to find developers fit for your team and requirement? We have listed down top qualities of best software developers that recruiters should look for in a prospective candidate,
A software developer should be passionate about their work with a genuine love for coding. They should find programming challenging and exciting.

A software developer should have excellent communication skills to be able to effectively share ideas among team members clearly and concisely.

A good software developer will not shy away from debugging their code and fixing the issues.

A good software programmer will have a healthy amount of scepticism and will not rest till they have extensively testes their code and assured that it is bug-free.

A software developer should be focused on simplifying complex problems instead of writing a complicated code.

A good software developer is not averse to the suggestions and would always be welcoming towards new ideas and tools which could make their code more efficient and robust.

A good software developer is passionate about their work. They love to code and constantly keep on learning to stay up to date with the latest technology in the market.

A software developer must be proficient in time management. Various tools help programmers in managing time and scheduling tasks. 

Business acumen is a very effective skill possessed by a software programmer. To know the real-time application of your code is a key skill of a good developer.

Technical knowledge and skills are the most crucial quality that a good software developer should have. 
Also Read: Hire Virtual Assistants | Know before you start
Software Developer Rate Per Hour 
According to the Bureau of Labor Statistics, software developers in U.S. earn a median income of $107,510 in 2019. The compensation varies based on location and experience. An experienced worker costs from $50-$120 hourly in the United States.
The need for a software developer is constantly rising for skilled professionals. In Western Europe, the cost of living is higher and a software developer costs around $70-$120 on average.
In Eastern Europe, the economic level is lower as compared to Western Europe. It will cost you $25 – $45 per hour. Ukraine and Poland stand out prominently with their large resource of software developers. The services are quite affordable in these countries.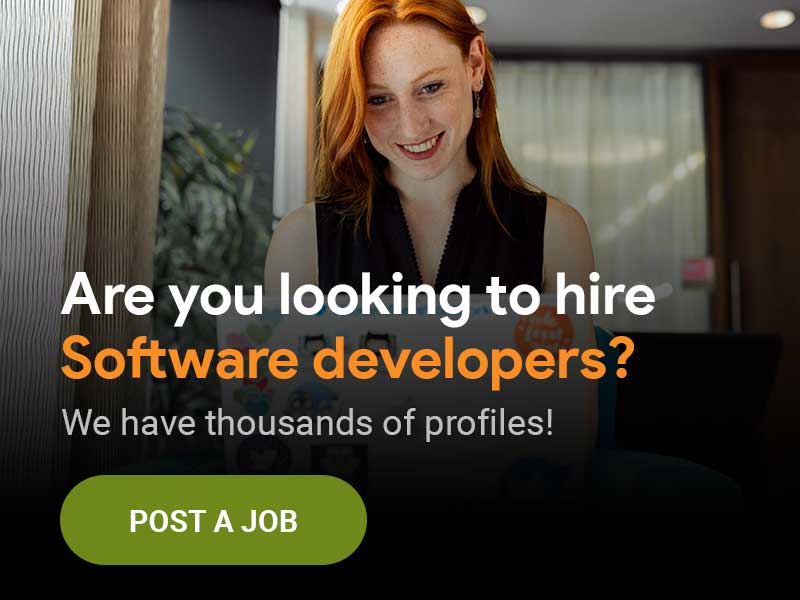 Asia has a huge market for software programmers with China, India, and Pakistan leading the market. Freelance software developers rate range from $18 to $40 in Asian countries. Freelance software developer salary in the United States is at an average of $47,060 which makes it a promising career for entry level professionals as well.  Software developers earn the highest annual salaries on an average in the U.S. The rising use of technology and automation has made it crucial for industries to hire software engineers for their growth.
Also Read: Hire mobile app developers | A complete guide
Places to Find Best Software Developers
How to find a developer on online job portals and browse through candidate's resume looking for software development near me roles.
Toptal

has job listings from startups and businesses looking for

top software developers

. It screens all candidates before letting them be a part of the talent pool.

unremot.com i

s one of the top job boards for companies looking for

a freelance software developer for hire.
Upwork

works with companies looking for a

freelance software developer, right from job posting till the payment process. It helps recruiters to find developers under software engineer near me around the same location.
Guru

is a great platform to find the best

independent software developer in the market. It is the best place to find freelance programmers.
Fiverr

allow you to choose amidst thousands of eligible candidate's profile and

find software developers as per your needs.
PeoplePerHour

helps you to

find freelance developers

for your project needs by browsing through candidate profiles or allowing them to approach you on your job listing.

FreeLance

offers a huge pool of talented

software developers for hire. They help you find the right candidate. They help candidates see the top software development companies near me

and apply for them. 

Upstack

helps small businesses to expand their development team without to hire anyone for a permanent role. They will show a list of

software developers near me

to recruiters looking to hire talent

.
GitHub Jobs

is used by more than 50 million developers daily. It is a Microsoft owned subsidiary that lists openings for

software programmers. Github posts regular listings for software developer near me.
Dice

has more than three million professionals listed on its portal. It is a strong tool to find

freelance software developers.
Also Read: Hiring freelance SEOs | Everything you must know
Steps involved in hiring the best software developers 
Are you wondering how to hire a software developer amongst a pool of large talent? Follow these steps involved in hiring the best software developers, 
Write a focused job description – Discuss with the development team on the roles and requirements expected from the applicants. Hire an expert skilled in writing job descriptions to avoid any biases in the job description.
Put up a screening process in place – Put up a screening process to shortlist candidates who are suitable for the role. Take help from automation tools to browse through millions of job profiles and select the ones which are suitable. Candidate can also be technically assessed by using tools like HackerRank which create online tests to evaluate technical skills.
Ask open-ended, thought-provoking questions in the interview – Basic step of how to find a software developer is to not stick to a script while taking an interview. Be flexible with the candidate and ask relevant questions. Try to understand their work style and practices to see if they will be a good fit for the team.
Follow up with the promising candidate – A candidate is likely to research and interview for other companies as well during the recruitment process. It is important to keep the communication lines open with a promising candidate. Let the candidate know that he/she is your top contender.
Sign a formal contract to seal the deal – Once you have finalized the candidate send over the paperwork and get the offer letter signed to make it official. Negotiate the price and date of joining with the candidate.
Also Read: Hiring video editors | A comprehensive guide for beginners
Top 10 interview questions to ask while hiring software developers
Are you a recruiter who thinks that I need a software developer for my project? These top 10 interview questions to ask while hiring software developers will help you to hire software developer. 
1. What programming languages do you know? Which programming languages do you prefer the most.
Rationale: If you need software developer who is proficient in coding, this question will give you an idea of the candidate's programming skills and knowledge. 
Sample Answer: I am proficient in C++, Java, Ruby, and Python. I have a working knowledge of Java and Ruby and I am currently self-learning Swift. But if I had to pick the top 3, my choice would be Java, Ruby, and C++. 
2. Tell us about your last project. What was your role in it? How did you contribute to the success of the project?
Rationale: This question will help you get an insight in the candidate's contribution to the skill, their management skills if they are a team player.
Sample Answer: I spent a lot of time doing API code review in my previous project. I discovered some codes were resource-heavy and inefficient. The alternative solution proposed by me helped in making it less dense and brought down the project cost.
3. What do you think are important aspects to pay attention to while reviewing another team member's code?
Rationale: This will give you an insight into the candidate's knowledge and problem-solving skills, their attention to detail, and if they are capable to overview a project.
Sample Answer: First of all I look for security, functionality and readability of the code. If the code has any redundancy. I check for vulnerabilities and see if regulatory requirements have been met.
4. What is your process to find bugs and fix the issues in a code?
Rationale: To see how crucial a candidate finds debugging along with programming. 
Sample Answer: I use verification and validation techniques to identify the bugs in the code and fix the issues. I do extensive testing of my code before getting assured of its quality."
5. Are you working on any personal project?
Rationale: Helps to find a software developer who is passionate about their work.
Sample Answer: A candidate working on a passion project is more likely to be excited about coding. A personal project showcases the candidate's love for coding and they will bring the same to the table.
6. Have you run into any software obstacle. How did you deal with the problem?
Rationale: To hire software programmer with great problem-solving skills.
Sample Answer: The interviewee should focus on specific examples of work that was particularly challenging. A candidate should Summarize their tasks, actions they took to accomplish these tasks, and how it helped them grow as a professional.
7. Describe what kind of development are you currently doing?
Rationale: It will help you see if the candidate understands the business reasoning behind those applications.
Sample Answer: I am currently working on a web development project that extensively requires Java in the back end coding. I find it challenging to resolve new issues in the simplest manner and write effective code.
8. How much do you code on a daily basis? If coding is not a part of your day to day activities, what is your typical role?
Rationale: Look for the candidate's commitment to coding, role in previous job and coding capability. 
Sample Answer: I code for at least 60 in a week. The rest of my time is invested in code reviews, scrums, and meetings to keep projects moving forward.
9. Tell us about a time when you had to make a critical decision during production. How did you manage it? What was the outcome?
Rationale: To evaluate if a candidate is a self thinker, analyzes issues quickly and recognizes logical connection between code.
Sample Answer: A candidate will tell you about a critical situation faced during one of the projects and what steps they did to tackle the situation. How did their decision helped the project and the team.
10. What are your career goals?
Rationale: This helps you know the long term goals of the candidate and what are their expectations from the role and the company.
Sample Answer: A candidate should be able to describe their short term and long term career goals and aspirations.
Also Read: Hire PHP Developers | A priceless list of tips to succeed
Top 10 tools to use while hiring software developers 
How to find software developers who fit your project requirements. We have listed down top 10 tools to use while hiring software developers,
Job Aggregators

like Indeed, Career Builder are an integral part of the recruitment system. They make up for almost 50% of all hires as recruiters can find direct applicants there. There are other

software developers websites

to search for eligible candidates. 

HackerRank

helps recruiters find the best candidates by assessing them for their technical skills. It creates tests and assignments for candidates and sends an evaluation to the recruiters based on it.

Textio

helps recruiters in preparing a well-written job posting. It identifies any language bias in the text and suggests alternatives to help write a good job posting.

Ideal

is used to screen and shortlist candidates with the help of AI from a wide range of selection. It analyses candidate data such as resume, assessment, performance data and selects the best fit.

ConveyIQ

is a video interviewing tool which includes other useful features such as email, text messaging, and interview scheduling. It is a great tool for recruiters

looking for software developer for their team.
Zenefits

people program brings all HR related things in one place. It puts benefits, payroll and HR access in the pocket and at the fingertips of the employees.

Zoom

can be useful to schedule meetings and appointments, transcribing calls, etc for taking interviews remotely.  

Workable

is an Applicant tracking system with built-in candidate sourcing. It scans millions of profiles to scan data and find candidates matching skills and location.

CodeSignal

evaluates a candidate's skills and aptitude by creating a vetting process as close to the real-world job as possible.

Recruit'em is a social recruiting tool that helps in searching candidates on LinkedIn, GitHub, Twitter, StackOverFlow for free.
Also Read: Hire front end developers | Know before you start
Dos and don'ts while hiring software developers
Following are the dos and don'ts while hiring software developers,
Do conduct skill-based tests and code reviews.

Do think whether they are a team player and will fit in the team.

Do cross-check with their references to see what it is like to work with them.

Do keep everything transparent while recruiting an employee.

Do check if they are ready to give a long-term commitment to the project and the company.

Do take a look if they have an attractive and functional portfolio.

Do check if they have a genuine interest in coding and your company's growth.

Do look for quality over quantity. See who has done more quality work instead of the number of years of experience.

Do hire a software developer with excellent communication skills.

Do look for attributes like flexibility, adaptability, critical thinking, etc.

Don't cover technical questions in the interview. Conduct screening tests to check technical knowledge.

Don't forget to share your project goals and expectations in the beginning.

Don't keep a budget constraint for the right candidate.

Don't overlook diversity in terms of working style while looking for

software development freelance professionals.

Don't make inappropriate small talk with the candidate.

Don't stress interview. Prepare backup questions if a candidate is unable to answer and move on.

Don't ask cliche questions which are irrelevant to the job role.

Don't miss out on signing a formal contract once you have made your decision.

Don't

hire software developers with poor time management skills.

Do not hire a software developer who refrains from testing their own code.
Also Read: Busines analyst interview questions | A complete guide
Are software developers in demand?
Software developers are in high demand with a projected growth of 22% from 2019 to 2029. With new applications and software in the market increased demand for developers will continue to grow. A skilled programmer with good technical knowledge of the domain is highly desired and are compensated well for their work. 
Why is app development so expensive? 
App development is not a work of a single software developer but an entire team of engineers working towards a common goal. A typical project takes four to six months for completion. Adding up the labour cost for this duration makes app development so expensive.