Want to hire one of the best PHP developers? Here's a list of top PHP developers, the skills you must look for, and how to hire them!
PHP is a widely used language for scripting in web page development. An estimated 80% of websites leverage PHP as their programming language. The prominent ones being WordPress, Facebook, Wikipedia, Tumblr, Pinterest, Etsy. And, this page of unremot.com that you are reading is also built on a PHP framework called Laravel.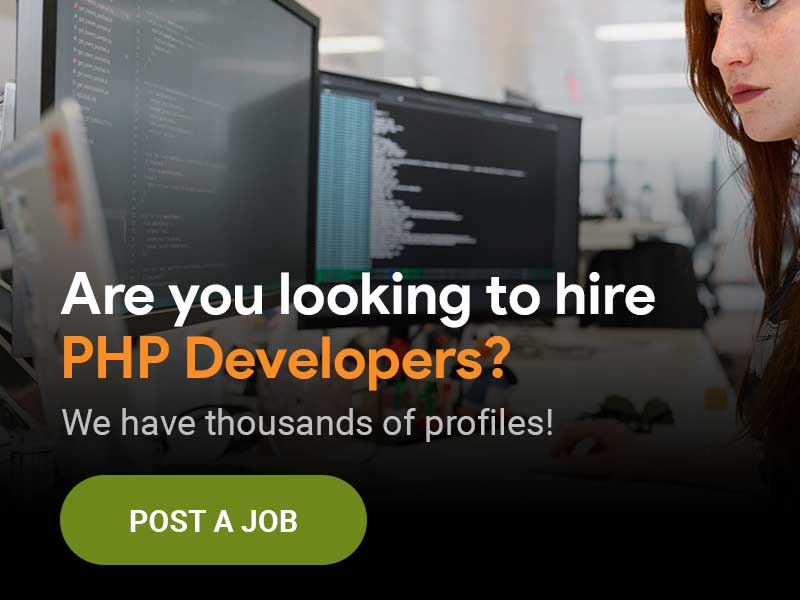 So, what is a PHP developer, and what are the key points to consider while hiring a PHP developer?
A PHP developer or PHP programmer is an expert who is entrusted with the responsibility of developing programs, applications, and websites leveraging PHP as the programming language. Since PHP developers contribute a lot in increasing the visibility of the websites, design, UI/UX, and customer satisfaction, it is vital to be aware of the key criteria that need to be verified while hiring PHP developers.
Also Read: Hire Android developers | Everything you must know
Market for PHP developer
The market opportunity for PHP freelancers is growing with more and more companies focusing on enhancing their websites and the content embedded into them. Providing user-friendly features with embedded intelligence is also the key asks from PHP developers for hire.
As per the US Bureau of Labor Statistics, a 26% growth is expected of PHP developers job through the year 2026. It is a significant rise in the job opportunities for PHP programmers, far above the average rate of growth in similar occupations. PHP came into effect in 1995 and such is its popularity and usage, the version keeps on upgrading last being in October 2019.
The number of PHP programmers are constantly on the rise, a curve that has been accelerating since 2013. A total of 5,000,000 PHP professional was recorded in the year 2013 which increased to 5,500,000 by 2018. It is expected that by 2023 there will be an increase of almost 6,000,000 PHP-developers worldwide.
In terms of a PHPdeveloper salary, the average as recorded by Glassdoor is near to USD 74K per annum for junior level PHP developer profile and USD 114K for an experienced PHP developer freelancer. Besides the hourly rates of a PHP freelancer are heavily dependent on the location, the size of the company, mode of employment etc.
Also Read: Busines analysit interview questions | A complete guide
Things to note while hiring PHP developer
Before proceeding to hire PHP developers, recruiting firms and hiring managers must be aware of some vital things to check and verify. The top 10 things to note for hiring the best PHP developers are,
The focus must be to hire PHP coders who have prior experience to work with reputed companies. This ensures added confidence in the credibility of the PHP web developer on the algorithms and techniques of programming.
Before you hire a PHP programmer, verify both PHP and HTML programming capabilities. Ensure to ask appropriate questions to the PHP coder to validate the skills.
Check the communication skills of the freelancer PHP developer as they need to constantly leverage audio and video conferencing tools to collaborate and communicate.
An important point to verify is the learning zeal of the PHP expert. PHP as a language undergoes up-gradation in the version frequently. Besides the technicalities of the web development enhances constantly with emerging trends and technology.
Before you hire PHP web developers, check their ability to understand the requirements and translate them into the code. It is an integral part of freelancer PHP individual's duty.
In addition to programming, an important responsibility of a freelance PHP developer is proof test the solution designed and coded. They must be capable to frame the use cases for testing and execute them.
Web development necessitates adaptation to the changes in the search engine algorithms, changing needs of customers and emergence of new technologies. A freelance PHP programmer must be aware of such advancements to be verified while hiring a PHP developer
While you are looking for PHP developer, innovativeness is the key quality to be checked. This will entrust confidence on the PHP developer skills to bring in new ideas and thoughts into web development to magnify user satisfaction and experience.
It is recommended to check the industrial or domain knowledge of the PHP developer for hire. This is a vital aspect to sync up the specifications and design and align to the domain concepts.
Time management is another vital point to be checked while hiring PHP software developer. Ensuring timely delivery as per the specified schedule of freelance PHP projects is a decisive factor for a company's success.
Also Read: Hire front end developers | Know before you start
Qualities of best PHP developer
Technical, interpersonal and communication skills are the vital qualities to be checked while hiring freelance PHP professionals. If you are a hiring manager, check out the list elaborated below for your easy reference to verify the PHP skills,
The basics of PHP – Best PHP programmers must be super fluent with the latest versions, frameworks and tools used in PHP. Verify this quality when you hire PHP web developer.
Programming Skills – Verifying the programming skills from prior experience is the most important quality to be checked when you hire PHP programmers. Besides checking with some examples is the best way to verify the skill of PHP programmers for hire.
Knowledge of HTML, Javascript and CSS – When you hire PHP freelancers, one of the key objectives is to check their knowledge on CSS, HTML and Javascript and PHP translater codes. These are the common programming languages every PHP developer freelance professional must be aware of.
Awareness of web development lifecycle – A PHP free lance expert must be aware of the end to end web development lifecycle, the activities and tasks to be performed. Hence verify this quality while hiring PHP programmer.
Good Team Player – A PHP specialist needs to be a good team player, capable to work in a team with seamless coordination and collaboration. When you hire a PHP developer, check the roles played by the person in a team.
Excellent verbal and written communication skills – Understanding the requirements and the design and executing the development are the duties of a PHP developer freelance personnel. Validate the skill while hiring PHP developer.
Past duties and responsibilities – Focus on the past experience of the PHP freelance personnel, along with the duties and roles performed by them.
Learning Courses and Certifications – Checking the learning courses attended and certifications obtained by the candidate is vital while you hire a PHP programmer or PHP engineer.
Social Media Impact – You can check the social media accounts of the developer PHP personnel and check their contributions in various forums.
Time Management Skills – When you need PHP developer for your company, check the time management skills of the person.
Also Read: Accounting Interview Questions | Know before you start
PHP developer rate per hour
A PHP website developer rates vary on years of experience, skillset, knowledge level and more importantly the regions in the world.
In the US, the hourly rates of a freelance PHPdeveloper varies between USD 128 and USD 100. A senior PHP developer earns higher rates compared to a junior or middle level web developer PHP professional.
The average salary of a PHP expert is much higher in the states of New York, and California while it's medium in the states of Washington, Colorado, Massachussets, Georgia and Texas. The hourly rates are fairly less in the states of Illinois, Michigan, Arizona, Pennsylvania and Florida.
In Europe, if you are about to hire PHP programmer, the hourly rates of junior developers are about USD 50. For middle level developers, the hourly rate of a PHP programmer job profile is USD 70 whereas that of a senior developer is USD 80.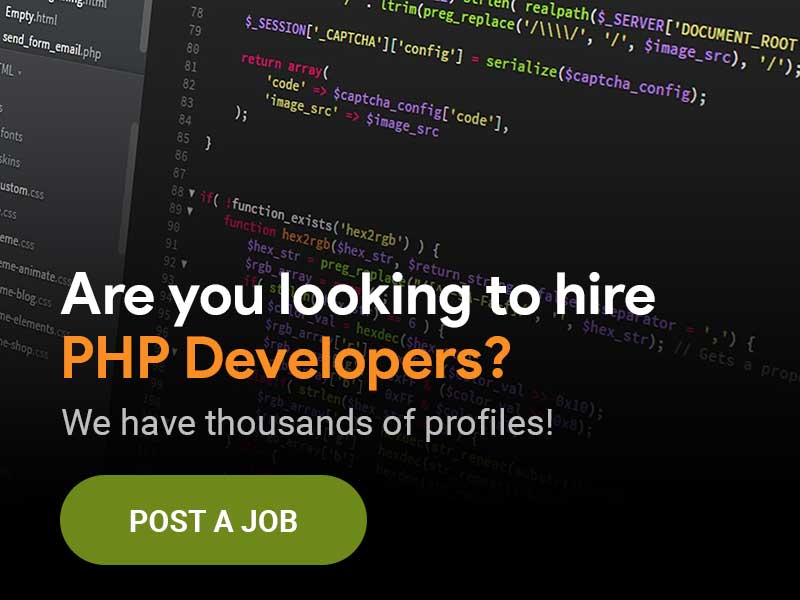 If you desire to find PHP developers from the Asian countries, the hourly rates for hiring a PHP developer at a junior level is USD 20, middle level is USD 30 and senior level is between USD 40 and USD 50. The greatest advantage to find PHP programmers from countries like India, Ukraine and other Asian countries is they are similar skilled like other countries but with must less hourly rates.
Also Read: Medical coder interview questions | An ultimate read for best results
Places to find best PHP developer
Since now you are aware of the qualities to check in the PHP developer hiring process, the next question is where can you find PHP developer? Enlisted are the websites where the PHP developer required, can be searched for,
Upwork – One of the largest job boards to hire PHP developer. You can post your job roles to hire PHP freelancer professionals and even search through the registered profiles.
unremot.com – Enables you to gain access into a global workforce where you just mention the PHP developer required for your organization and the requisite skills.
Indeed – The popular job website containing profiles of a massive pool of freelancers for hiring a PHP developer through different search criteria and filters.
Toptal – In Toptal, you need to specify the PHP web developer job description and the details about the roles. This will enable you to search for PHP developer 11 best freelance professionals.
Hired – The unique aspects of Hired website is its search ability to locate PHP developers both experienced and entry level with the requisite experience and talent
Stack Overflow – The job board assists you to gain access to PHP developers worldwide, with great deal of experience and expertise in website development
People per hour – Essentially focuses on a huge profile of PHP programmers, listing of job opportunities and different modes of employment.
GitHub Jobs – You have to pay a small fee to list the PHP app developer job opportunities. It will help you to gain access to the site's developer community.
We Work Remotely – The job board is prominent and well known for hiring a PHP developer interested to work in remote mode of employment
Working Nomads – Another popular job website for searching and hiring a PHP developer, preferably interested to work remotely or as a freelancer.
Also Read: Teacher interview questions | A how-to guide for beginners
Steps involved in hiring best PHP developer
The next big and crucial action in hiring a PHP developer is to be aware of the steps to be enacted. Let us discuss the crucial activities to be performed to recruit the perfect PHP developers for your website.
Write out the Job description with clear duties and responsibilities and the expectations. There must never be ambiguity in the activities to be performed to avoid confusion and misunderstanding among candidates.
Prepare the PHP interview questions and answers expected from the candidates. The questions must be segregated based on the skillset and experience level of the PHP developers being hired. You must focus on both technical and soft skills to assess the suitability of the candidate for your job roles.
Fix the pay structure of the PHP developers depending on the roles, mode of employment, location and years of experience. Ensure the hourly salaries are in alignment with the average pay scale in the country of operation.
Post your job listings in the websites for interested candidates to apply for your expected roles. The listings must include the job description, the expected salary, location, and mode of employment. The job roles must be lucrative enough to lure PHP app developers worldwide.
Search for PHP developers in the job boards and scan through the registered profiles as well as the profiles applying for the jobs. You must answer to all the queries of the candidates posting in reply to your job listings
Shortlist the candidates after viewing their resume, analyzing their experience and expertise and appropriateness for the roles
Schedule an interview with the shortlisted candidates, comprising of both technical and managerial or HR evaluation
Finalize the candidates to be recruited and circulate the offer letter. And yes do not forget to get the contract agreement signed.
Also Read: Health coach interview questions | Know before you start
Top 10 interview questions for PHP developer
By now, you have understood what is PHP developer definition and how to hire them. Next for judging the qualities of a PHP developer, listing down of the PHP developer interview questions is important and a mandatory task.
1. Write out a code and ask, "What do you think is the output of the code?"
Rationale: Help to judge the instant thought process and the knowledge level of the candidate. You can even focus on the advanced functions in the written code.
Expected Answer: Once a candidate immediately mentions the code output with confidence, you can be sure of the person's credibility.
2. What are the different error types in PHP?
Rationale: Important to be included in your list of PHP interview questions, and answer from the candidates will help to understand their debugging capabilities
Expected Answer: The candidates must mention about notices, warnings and fatal errors with clear examples for you to consider and agree.
3. State the difference between GET and POST?
Rationale: It is crucial to include it in your list of PHP interview question and answer from the candidate will help in judging the knowledge about HTTP protocol
Expected Answer: If the candidate mentions about the characters and data that is handled by both along with the restrictions, you can consider the person.
4. Define Traits
Rationale: Include it in your list of PHP interview questions and answers for 5 year experience candidates to check their knowledge maturity of the powerful features of PHP
Expected Answer: Candidate must mention about reusable code creation through traits for you to tick mark.
5. State the function for retrieving the number of array elements
Rationale: Ask this particular PHP technical interview question especially to a fresher to verify the basic understanding of PHP
Expected Answer: If the fresher mentions about the count( ) function, consider it as the right answer.
6. Do you know about construct( ) and deconstruct( ) methods?
Rationale: Another basic level PHP question to ask for verification of the PHP basic concepts.
Expected Answer: Construct takes in parameters for initializing class properties whereas deconstruct does not need parameters.
7. Can you change the value of constant?
Rationale: Popular question asked to validate the candidate's in-depth knowledge
Expected Answer: If the candidate answers No, you are sure of his or her expertise.
8. Describe how to enable error reporting?
Rationale: Check this question to understand error debugging capabilities of the candidate and the codes of PHP write to log file features.
Expected Answer: The candidate must explain the usage of error messages as the answer for you to consider as correct.
9. State the difference between unset and unlink functions
Rationale: Two vital functions to be checked while hiring a PHP developer for knowledge level verification
Expected Answer: With unset, a variable is set to undefined and unlink deletes a file.
10. How can you get the client's IP address?
Rationale: It's a tricky question to ask since there are various methods to do so and the candidate must know them all
Expected Answer: Easiest solution is via the server function or writing x line scripts. Once the candidate mentions the same, you can consider as the correct answer.
Also Read: Illustration interview questions | A complete guide
Top 10 tools to use while hiring PHP developer
You must be in possession of the right recruiting tools for hiring a PHP developer for your company's website. Illustrated below are top 10 tools to use while hiring a PHP developer, for your easy reference and guidance,
Job Boards – Internet has a plethora of job websites assisting you to hire PHP developers Indeed.com, unremot.com, Upwork etc. You can post your requirements in the job boards or search for appropriate profiles.
Assessment tools – Conducting Aptitude tests in written or online mode to judge the candidate's basic IQ level, personality and behavioural characteristics, is the vital part of any hiring process. Tools used are mainly Pymetrics, HackerRank etc.
Artificial Intelligence and Chatbots – Trending digital tools to shortlist candidates, analyse the information submitted by them and also enable virtual chat or messaging for collaboration. Typical tools used are Zoom.ai, Textio, Ideal etc.
Social Media Platforms – LinkedIn, Facebook, Twitter, Reddit etc are powerful social media platforms for finding PHP developers. You can post your requirements as well as search for potential profiles.
Tracking system for applications – You must install or create a portal to track the applications received from candidates, along with basic data collection.
Recruitment Portal or Tools – Constant communication and collaboration between the candidate and the HR department is essential with regards to exchange of required documents or salary negotiations. Recruitment tools or a portal is useful for example Yello, SmashFly, Avature etc.,
Audio and Video Conferencing Tools – Possessing audio and video conferencing tools and software is mandatory to conduct interviews with the candidates. Examples can be Zoom, GoogleMeet, Microsoft Teams etc.
Tools to aid advertisements – Mentioning the right content and phrases for advertising your company's job roles in different job boards and social media platforms is vital. Else candidates may not apply for the roles. Tools like Textio assist in creating the right content for job advertisements.
Onboarding tools – After hiring a PHP developer, onboarding process is initiated for induction into the company's payroll. Initial training, employee id generation, payroll initiation, triggering of employee benefits need to be tracked to closure. Tools used are Click Boarding, Applicantstack, BambooHr etc.
Background Check Tools – The tools are used to verify the candidate's profile by checking criminal records, past experience, educational qualifications etc. For example GoodHire, Intelifi, Sterling etc.
Also Read: Animation interview questions | Everything you must know
Dos and donts while hiring PHP developer
We hope by now you are conversant on what is PHP developers, their qualities to be checked and where to find them. Awareness of the Dos and donts is the next vital step while hiring a PHP developer.
The Dos,
Validate the programming skills by focusing your PHP interview questions on the web development activities and details on the programming languages
Check on the soft skills by asking the relevant PHP questions since they need to collaborate with internal and external stakeholders
State properly the expectations from the candidate, without any ambiguity
Recruit a person with excellent verbal and written communication skills
You must ensure the candidates are backed by good references and strong credibility
State the vision and objective of your company to the candidates
Verify the prior roles and experience while hiring a PHP developer
Conduct a background check of the candidate mandatorily
Video or in person interview must be the norm for hiring a PHP developer
The candidate's resume must be validated by asking the appropriate PHP technical interview questions
The Donts,
Avoid compromising on quality while hiring a PHP developer
Do not recruit a candidate who fails to provide supporting documents related to educational qualifications or prior experience
Never recruit a person without the relevant work experience for the job roles.
Never recruit candidates with limited knowledge of programming languages and web development.
Do not miss out asking for use cases in your list of PHP interview question and answers
Do not fail to call the references to validate the credentials of the candidate
You must not wrongly state the job role and description to the candidate as it may lead to dissatisfaction in future
Health and insurance benefits must never be stated incorrectly
Salary negotiation must not be avoided as you may lose out on talents
Never be rude or unprofessional while interviewing candidates
Also Read: Video editor interview questions | A comprehensive guide for beginners
How much does it cost to hire a PHP developer?
Hiring a PHP developer means essentially to spend approximately USD 120 per hour to USD 40 per hour. The charges are dependent on the experience level, expertise and knowledge level and even the regions in which they are based. In US and Europe the charges are more as compared to those of India and other Asian countries.
Is PHP developer in demand?
With more and more companies focusing on creating websites to increase their brand awareness, the demand for developers is rising. Recruiting companies are now aware of what is PHP developer and their importance in website development. Hence the demands are uplifting considerably