Want to hire one of the best virtual assistants? Here's a list of top virtual assistants, the skills you must look for, and how to hire them!
In this blog, we will try to answer common questions you may have about virtual assistants. Some common questions asked are How to hire a VA? Or What are virtual assistants?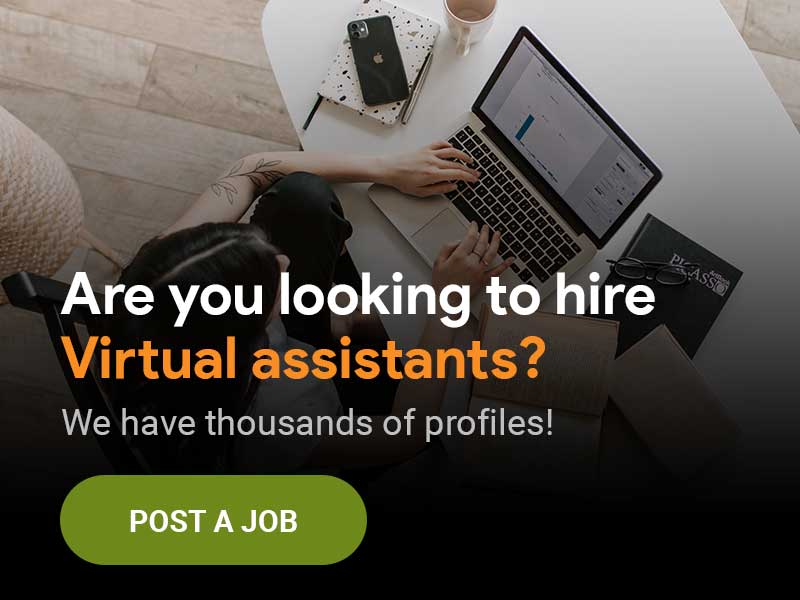 A virtual assistant is a person who assists your business from remote locations. Thanks to technology, your employees or freelancers do not need to be physically present. A virtual assistant job description is not limited to administrative tasks and clerical work.
Today, virtual assistants can help you with marketing, web-design, social-media management, content writing, and bookkeeping, among others. Small businesses often need a virtual assistant to run their daily administrative tasks more efficiently.
Also Read: Hire front end developers | Know before you start
Market for a virtual assistants                    
The US has a large administrative workforce. In 2018 there were over 3.7 million administrative assistants in the US. The global virtual assistance market is estimated to be at $1.1 billion in 2011.
According to projections will reach $11.9 billion in 2024. The virtual assistant job market will grow by 4.4% between 2018 and 2022. A virtual administrative assistant can save your company 78% of operative costs every year.
You save on office space, equipment, hire the personal virtual assistant only when required, and save on recruitment and training costs. 87.7% of virtual assistants for hire, are paid by the hour. The cost of a virtual assistant can range from $400 to $5600 per month.
Also Read: Hire PHP Developers | A priceless list of tips to succeed
Things to note while hiring a virtual assistant
If you want to hire an online assistant service for your company, you need to verify their credentials. A wrong candidate can result in a loss in the productivity of your firm. Let us discuss the things you need to take note of while hiring a virtual assistant.
Top-notch communication skills – Virtual assistance needs to communicate with you and your clients daily. They need to have excellent communication skills. They should be comfortable while communicating on the phone, via text, emails, or chats. You need to ensure the candidate can communicate in all these formats.
Computer skills – Since you are hiring online assistance, they need to have fantastic computer skills. They should type at least 30 WPW in English. The virtual assistant description includes using the internet, familiarity with project management, and task management tools. They need to know how to schedule meetings on the calendar, send emails, use video conferencing tools, and any programs.
Basic accounting skills – A virtual assistant is not an accountant. However, they should have an understanding of basic accounting. They should know how to use accounting software, track if clients pay their bills on time, and handle and monitor expenses.
Internet research skills – A virtual PA should be able to find information on the internet. They should have the ability to find the best deal and tools to use to complete the work assigned to them.
Writing skills – Your assistant must write well. Virtual assistant job description includes writing emails and memos. They should have a good command of the language, a large vocabulary, and write grammatically correct English.
English proficiency – Candidates from the Philippines or India usually more affordable. Before hiring someone, we recommend you take an online English proficiency test.
Planning and scheduling skills – Planning and schedule are part of a VA job description. They should be able to work and manage your schedule effectively.
Basic social media skills – Your virtual assistant should have basic social media skills.
Familiarity with top project management tools – Many organizations use project management tools such as Asana, Basecamp, etc. The virtual pa should be able to familiarize themselves with the system your firm is using.
Look for experience – Hiring a candidate with prior experience in the field of work.
Also Read: Hire Android developers | A comprehensive guide for beginners
Qualities of the best virtual assistant
A top virtual assistant can be an asset to any organization. Whether you need a virtual assistant data entry or for administrative purposes, here some qualities of the best virtual assistants,
Reliable – Professionalism and reliability are extremely important. Online assistants need to complete the assigned tasks without follow-up.
Accuracy – Jobs such as data entry and marketing require accuracy.
Integrity – A virtual assistant has access to a lot of sensitive data in the organization. It is vital the virtual private assistant takes their word seriously and honors all commitments.
Communicates well – You need to know the status of various tasks. The virtual pa needs to communicate with your clients and stakeholder regularly. They need to communicate clearly.
Time management – Some assistant virtual manage multiple clients. They should be able to manage your work efficiently.
Resourcefulness – An assistant virtual should be resourceful. The assistant should have the ability to find solutions to various issues and think outside the box.
Add value – the virtual assistant should help your business grow.
Self-directed – Since the remote assistant works from a virtual location. They should be able to work well without too much instruction.
Works well under pressure – The virtual assistant should work well under pressure.
Ability to multitask – The virtual administrative assistant job description is varied. They should be able to multitask.
Also Read: Hire video editors | Everything you must know
Virtual assistant rate per hour
A common question asked when you are thinking about hiring a virtual assistant is how much does a virtual assistant cost? There is no standard rate for full-time or part-time virtual assistant. The salaries depend on your job description.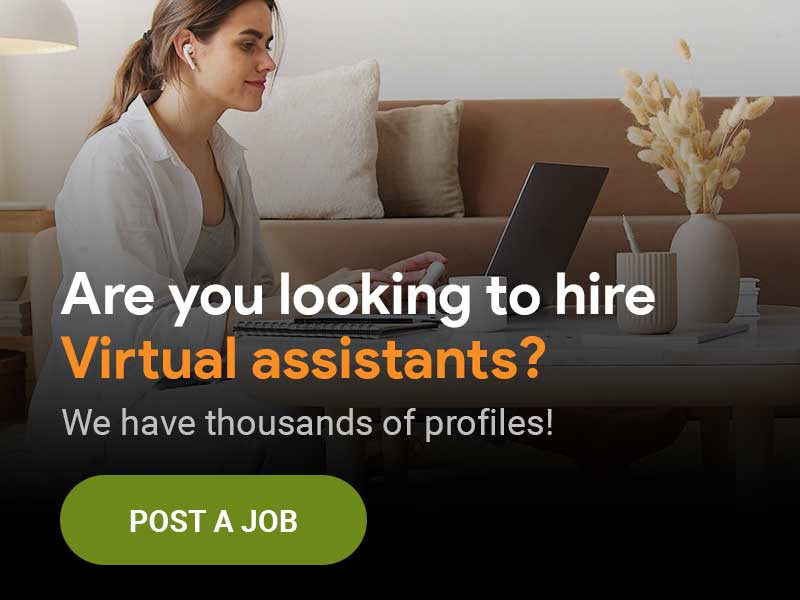 The personal digital assistant prices in the US varies from $10.19-$59.86/hour. The average hour $16.15/hour. The above rates are for general virtual assistant. VA with specialized skills will get paid more.
| | |
| --- | --- |
| Type Of VA Service | Average Hourly rate in US |
| Administrative Services | $10-$20+ |
| Executive Services | $30-$40+ |
| Accounting and Bookkeeping Services | $12-$25+ |
| Miscellaneous Services (Marketing, SEO, Research, etc.) | $10-20+ |
The personal digital assistant prices in different parts of the world are,
General Virtual Assistant
VA with copywriting skills
VA with design

Skill

VA with customer service skill
VA with store administrative skill
Western Europe
$21
$34
$21
$21
$34
South East

Asia

$16
$27
$25
$16
$21
Africa
$14
$32
$24
$16
$19
Also Read: Hire freelance SEOs | A complete guide
Places to find the best virtual assistant
Now that you have decided that I need a virtual assistant. You will need to go through various job board sites. Luckily many websites help you hire a virtual assistant online. Some of the best places to hire virtual assistant are:-
Fiverr is a great resource if you want to hire a cheap virtual assistant for specific virtual assistant tasks.
Upwork is one of the largest freelance websites to get virtual office assistants. The website mentions the virtual assistant hourly rate.
unremote.com enables you to hire a virtual assistant. You can view resumes of virtual assistants from around the world. The website provides the best virtual assistants from around the world. Unremote has some of the best virtual assistant jobs.
Virtualassistants is a top virtual assistant website. You can hire an internet marketing virtual assistant, data entry virtual assistant, customer service virtual assistant, etc.
24/ 7 Virtual Assistant provides virtual assistants for hire. The website allows users to hire a virtual secretary 24/7. The services can be canceled without penalty.
Time Etc is a US-based and UK -based website providing some of the best virtual assistants. You can hire a VA with two to three years of experience.
Fancy Hands is a US-based virtual assistant company providing the best virtual assistant services.
Vasumo provides virtual assistant services for small and large scale organizations.
Freelancer allows users to find virtual assistance services easily.
VaVa Virtual provides you with the option of a general virtual assistant or a specialized virtual assistant.
Companies that provided the best virtual assistant services in 2018 were,
CanadaDirect
Intelligent Office
VA Talks
Specialty Answering Service
Cloudstaff Talent Solutions for the Modern Workforce
Also Read: Hire mobile app developers | Know before you start
Steps involved in hiring the best virtual assistant
Now that you have decided to proceed with hiring a virtual assistant, you need a systematic approach. Here are some steps you can take,
Write a detailed virtual assistant job description. This will help you find a better fit. This includes preparing a list
Prepare a list of questions for the interview. You should also prepare a list of virtual assistant skills you think are critical.
Decide if you would prefer to hire a virtual assistant agency or some of the best virtual agency websites.
Find out how much do virtual assistants charge? and make a budget for the projected expenses.
Scan resumes on websites or virtual administrative assistant services.
Shortlist the candidates and conduct interviews with the candidates.
Select the candidates.
Sign the contract after negotiating their salary
Also Read: Dispatcher interview questions | A priceless list of tips to succeed
Top 10 interview questions for a virtual assistant
Now that you know you need a virtual assistant. These questions can help you ascertain the suitability of the candidate. The questions asked are a mixture of situational, practical, and behavioral questions.
1. What are your core skills?
Relevance: Every organization needs a virtual assistant for a specific purpose that can differ.
Expected Answer: Over the years, I have gained experience in bookkeeping experience, data management, calendar management, and social media management.
2. What methods of communication do you prefer?
Relevance: Communication is in the job description.
Expected Answer: I am comfortable using all forms of communication. I prefer email since I can carefully draft out my responses
3. Describe a time when you struggled to communicate something to someone. How did you get the message across?
Relevance: The candidate needs to show they will not give up easily.
Answer: My colleague was unable to understand how to use a newly implemented project tool in my previous company. I made a small presentation based on the information in the user manual.
4. What would you do if I gave you an assignment and later you realized you didn't understand?
Relevance: A candidate should be able to ask for clarifications in case they do not understand something.
Answer: If I am unable to understand something, I normally ask my client for clarification. I write specific questions I may have about the tasks and clear the doubts I may have.
5. There are many emails in your inbox how do you prioritize which to answer first?
Relevance:  The question will help you ascertain if the candidate can work well under pressure.
Expected Answer: I first skim through the emails and mark the messages with high priority. After I finish answering the urgent emails, I answer emails using the first-in-first-out approach
6. What is the best virtual assistant"?
Relevance: This helps to ascertain what skills the candidate considers important.
Expected Answer: I think there are many skills that help make the best virtual assistants. However, the important skills are:- exceptional research skills, great communication skills, the ability to stay organized, and the ability to handle multiple tasks.
7. What do you do if your computer crashes when you have a deadline?
Relevance: A good online assistant will always have a backup.
Expected Answer: I backup all my work on the cloud. I use my tablet and make provisions to get my laptop repaired.
8. How do you bring professionalism to your work, while working in a domestic setting?
Relevance: The virtual assistant must have a professional attitude.
Answer: I have a dedicated office space in my house. I ensure I work uninterrupted during my office hours.
9. What are your goals?
Relevance:  The answer will let you know if the virtual assistant is goal-driven.
Answer: My immediate goal is to get a job in a growth-oriented company. My long-term goal is to start a company providing virtual assistants to companies all over the US.
10. What security measures do you use?
Relevance: A virtual assistant handles sensitive information and the candidate should know how to protect your data.
Answer: I have a secure Wi-Fi connection, and updated anti-virus and malware settings.
Also Read: Video editor interview questions | A comprehensive guide for beginners
Top 10 tools to use while hiring a virtual assistant
Thanks to technology, you can now hire a virtual secretary from the comfort of your office.
Job boards – You can visit some of the best virtual assistant sites or job board site that allows you to post job requirements, and to view profiles of candidates. You can then proceed to shortlist your ideal candidate. unremot.com and VirtualAssistant are some of the resources at your disposal.
Recruitment marketing software – Recruitment marketing software helps to optimize your recruitment process. Popular recruitment marketing software is – Happier Work.
Application tracking system – The application tracking system helps to streamline the recruitment process. An example of an application tracking system is Turbohire and Greenhouse.
AI and automation tools – These tools use AI technology to automate the hiring process. Textio, Zoom are some AI in the market.
Candidate management tool – These tools help recruiters build a relationship with the candidate before hiring them. Some examples of candidate management tools are SmashFly, Yello, etc.
Candidate Sourcing tool – Candidate sourcing tools proactively look for candidates on the job board website and shortlist candidates. Turbohire is a popular sourcing tool.
Video interviewing software – Video interviewing tools help you tackle the physical constraints. Skype, zoom, and Google meets are some of the video sourcing software available.
Recruitment assessment tool – Recruitment assessment tools allow you to verify and assess the candidate's knowledge, skills, and abilities. E.g. Pymetrics and GoodHire
Background check software – These tools check the internet to verify the experience, lack of criminal background, qualification, etc. GoodHire and Sterling are popular background check software.
Onboard tools – Onboard tools help the recruit gets integrated into your organization faster. E.g of onboarding tools is Bamboo HR, Click Boarding.
Also Read: Animation interview questions | Everything you must know
Dos and don'ts while hiring a virtual assistant
There are some simple dos and don't which will help you and your virtual assistant have a smoother transition.
Dos,
Do write a detailed virtual assistant description.
Do be clear about your expectations.
Maintain clear communications.
Do decide where to find a virtual assistant- virtual assistant agency or some of the best virtual assistant websites.
Do find out virtual assistant rates in your area.
Do consider the time zones when hiring a candidate.
Do be prepared to train them.
Do ask for a verifiable reference.
Do seek out personal compatibility at work.
Do hire someone who understands your target audiences
Donts,
Do not give vague instructions.
Do not hire without interviews.
Do not hire candidates impulsively.
Do not settle till you find a candidate that meets your requirements.
Do not hire a candidate who cannot communicate clearly.
Do not hire someone uncomfortable with your working hours.
Do not work with a candidate who is not willing to learn.
Do not work with a candidate who lies on their resume.
Do not be rude or unprofessional with the candidate.
Do not work with a candidate who needs to be monitored.
Also Read: Illustration interview questions | A complete guide
How much does it cost for a virtual assistant?
You want to hire a virtual assistant but Do not if you have the budget. There is no standard rate for a virtual assistant. Virtual assistants can charge anywhere from $1 to $100/hour. Several factors can determine the virtual assistant cost.
The type of work they do – Virtual assistant payment depends on the work they do. There are several types of work they do,

Administrative service ($10-$20)/hour
Executive service ($30-40)/hour
Accounting and bookkeeping ($12-25)/hour

Experience level – Virtual assistant prices differ with their experience level. Inexperience virtual assistants will charge less.
The location from which they work – Virtual assistants from places India and the Philippines charge less.
Also Read: Health coach interview questions | Know before you start
Why do you need to hire a virtual assistant?
There are several benefits of hiring a virtual assistant for your business,
Reduces Costs – Most business owners are hiring remote VA to reduce their overhead costs. The virtual assistant rates per hour are lower than a full-time employee. Additionally, organizations do not have to pay for overhead costs such as laptops and internet services. Organizations save on training costs.
Hire the best talent – You hire the best virtual personal assistant without being constrained by geographical parameters. You can hire the best assistant from several virtual assistant sites.
Increases efficiency by outsourcing non-core tasks – Businesses can outsource non-core activities when they hire a virtual assistant and concentrate on their core business activity. You will have free time for strategic thinking.
Quickly scale your business operations – Professional virtual assistants can help you scale up your business quickly. You have the option of hiring talent on a project basis. Your business can cope with the increased demand without worrying about recruiting personnel.
Offer 24/7 services – Many businesses have customers across the globe. You can hire virtual pa in different parts of the world to help you serve customers in that region.