It is exam time. You are texting your friend to get you notes so you can fret less and learn more. But this last-minute panic can be exceedingly stressful. To escape this wrecking scenario, here is a guide on how to take notes. Often scribbling whatever our teachers teach won't be helpful. One can even miss highlighting every topic discussed., There must be an effective way of structuring the notes. So the question here is how to take better notes in class?
Before the class begins
Interestingly, the best way to make notes starts before the beginning of the class itself.
Review the course material, textbooks, or relevant sources to get the idea about the topic that will be discussed in class. 

Refer to the syllabus to know which topics are important and will be needing the most attention from the examination point of view. 

Revise the previous day topics and brush up with the idea to understand the flow of teaching. 

Maintain different notebooks on each subject. 

If at all using just one notebook, divide the sections. 

Make the heading of the topic prominent, so it gets easy later. 

Try to keep the notes in chronological order for faster reference. 

Good notes should always be accessible and readable.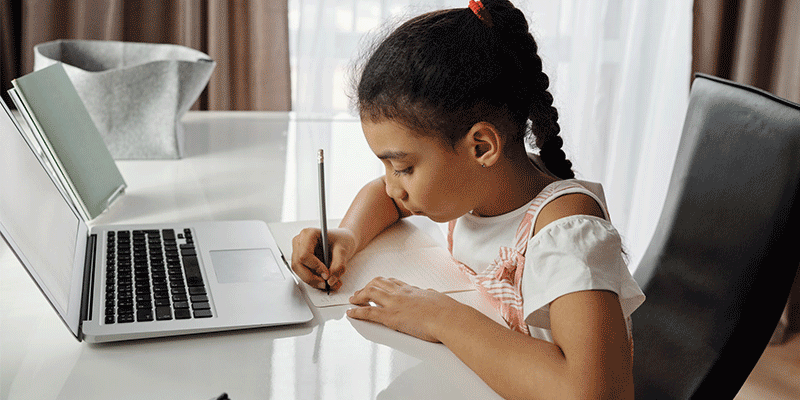 Best note taking apps in 2020 | Note taking made easier
During the class
Now comes the showtime. 
Concentrate on the critical topics and keywords the teacher says, rather than copying down the entire presentation sentence by sentence or every word the professor says. 

Add in more detail or describe terms and definitions if missed in class, putting their idea and analysis. 

Try jotting down the question as well, which comes to the mind while making the notes to get it clarified later. 

Mark the topics which might seem confusing and need to be referred for additional clarity. Make sure the writing is legible for it to make sense later. 

Use abbreviations and bullet, with symbols and flowcharts instead of writing complete sentences. This actually speeds up the entire process of note-making and it also becomes easy to grasp the topic.
After the class
Time to wrap up.
Once the class is over, read the notes.

Arrange them in order, fill in the missing details.

Get some more details from the internet or textbooks to understand the topic in depth.

In case of ambiguity or doubts, jot it down to get it clarified in the next class. 
Did you know? We can recall just 10 per cent of what we are reading.
Best Pomodoro App 2020 | All About Pomodoro technique & how to use it
What are the different ways of taking notes?
Every person follows his/her unique style when it comes to taking notes. But how to take notes effectively is not known by many. There are various ways of doing it. One can choose whichever style he/she is comfortable with suiting the needs well.
1. Cornell Method
This is one of the famous note-making techniques developed at Cornell University in 1950.

Prof. Walter Pauk explained in detail on how to take Cornell notes.

Divide the page into 2 sections: a header having the heading, a footer to have the summary, and 2 columns.

This technique employs the usage of two columns, narrow left column, and wider right column.

The left column is used for jotting down cues, keywords, topic headings, mnemonics, abbreviations, dates, relevant terminologies, and other to the point details.

The right column, on the other hand, is used for descriptive details explaining in depth the related meaning and definitions of the words mentioned in the left column.

This is followed by a quick summary at the end which includes a quick analysis as discussed above.

This method is a time-saving technique that is easy to revise during exams.

Students need not put extra effort into making additional notes if they are preparing Cornell notes.

This is also effective in providing easy categorization when making notes from a textbook.

This is one of the simplest, unique kinds of note-taking techniques with the review at once glance approach.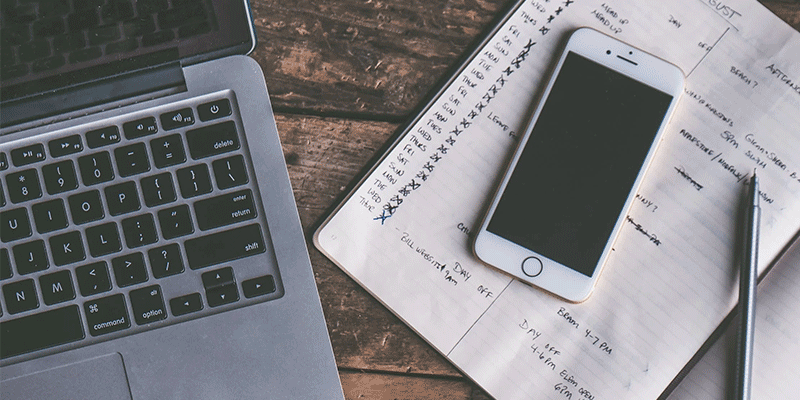 Deep Work Summary: 5 Key takeaways to help you be more productive
2. Charting Method
This method makes use of spreadsheets and matrices.

Rows and columns are used for entering keywords with subsequent explanations.

This note-making technique is used when the outline of the topic discussed is clear.

This is used for grouping similar types of information under one column, like the lists of disadvantages and advantages can be written in 2 separate columns.

It is quite useful for comparative analysis topics.

It employs less writing, rather emphasizes on building relationships and correlations between the subtopics.

This is the ideal way of memorizing the facts and figures. 
3. Outline Method
This is a widespread form of note taking techniques.

Different points and subtopics are listed in bullet points, mostly having numbers, symbols, roman numerals, alphabets.

It works well in most lectures.

This clear, logical segregation of information is easy to retain.

This is a time-saving tactic.

The ordering follows from most important to least important information.

It does not reflect the relationships amongst the topics.
Time Blocking: All you need to know about this powerful technique
4. Two Column Method
As the name suggests, it consists of just two columns.

If you know how to take Cornell notes, then this method is also similar but has lesser sections.

All the comprehensive information is on the right column.

The plausible questions can be jotted on the left column.

This follows a side by side question-answer pattern.

The questions can be filled in the left after the class.

While the discussions and answers can be jotted down during the class discussion itself.

This way helps in quickly understanding the exam point of view, giving a set of sample questions readily available.
5. Mind Mapping Method
This uses circles/ovals, boxes, flow charts with protruding lines branching outward.

Colours and images are also used in mind mapping methodology of note-making.

It is best to use when the given topic is lengthy and intense, having various hierarchies of information. 

It also follows a binary tree-like structure, having the main topic in the root and subtopics as child nodes. 

These kinds of notes are easy to edit.

One has to be quite attentive in making these mappings and follow the sequence otherwise, it can be confusing if placed wrongly.
How to cultivate self directed learning? | Definition, Strategies, Models
6. Sentence Method
This method employs the usage of full-fledged sentences covering everything in lines and paragraph formats.

This can be time-consuming and confusing.

It is best suited when topics are concise.

Only textual content may lead to a loss in focus.

It must be balanced adequately with proper spacing and topic differentiation.
7. Visual Method
It uses sketches, mappings, keywords, and web patterns for note-taking.

This can be a time taking process.

It is a visually appealing and creative method that keeps the reader engaged, grabbing the attention right in place. 

It works well when the subject is less of theory and more of real-time examples.

This technique helps remember concepts long term.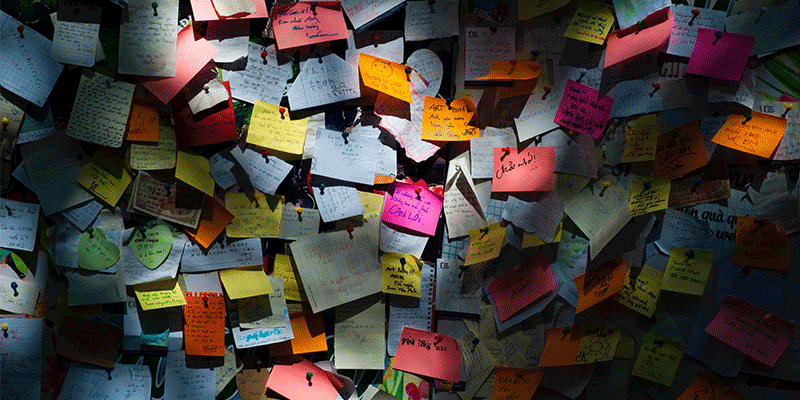 Best resume software | Give the finest first impression
8. Colour Coding Method
This method is used to quickly segregate the information and faster review.

One can use various colours to denote the information.

Deciding which colours to use can be time taking and confusing.

Rather than using many colours, try using 4 colours in 1 pen.

Make sure that the notes are not bombarded with colours. This can make it difficult to focus on.

Have a reference box at the corner of each page to represent the colours and what information they are denoting to.
These are some of the ways on how to take better notes in class.
Did you know? We can remember almost 35 per cent of what we're seeing.
How to take notes effectively?
Here are some tips on how to take notes effectively.
Develop the habit of writing.

Be well equipped with stationary like highlighters, pens, and other essentials.

Do not clutter the page with unnecessary information.

Do not waste time in making it more vibrant. 

Work on active listening and participation.

Involve in the discussion by asking questions.

Revisions are must to edit if anything is misspelt or wrongly written.

Highlight, compare and improvise.
Did you know? A combination of words and pictures can retain the information up to 65 per cent.
10 Best Calendar Apps For A Productive You
How to take notes faster?
Every effort will be futile if one fails to make notes in time. Making notes effectively is one aspect but making notes faster is rather crucial. So here are few tips on how to take notes faster.
Stick to traditional note making style using pen and paper.

Avoid using electronic gadgets like phones, laptops, and iPads as they can serve as sources of greater distractions.

Writing should be preferred to typing since writing notes can increase the speed and serve as practice sessions to write within deadlines. This particular aspect can be a life-saving hack when it comes to typical examination preparation.

Don't rush to fill in pages with every word that the teacher says. Rather focus on what they are teaching and note the general idea in your own words paraphrasing the topic.

Stick to a particular style of taking notes. A mix of styles can lead to ambiguity.

Come up with your mnemonics and acronyms but make sure to write down the extensions of them later at one corner to avoid confusion later. This technique can also make your note concise and clean.

Try to find a sit where you and your teacher are in an audible range.

Make immediate corrections after class is over.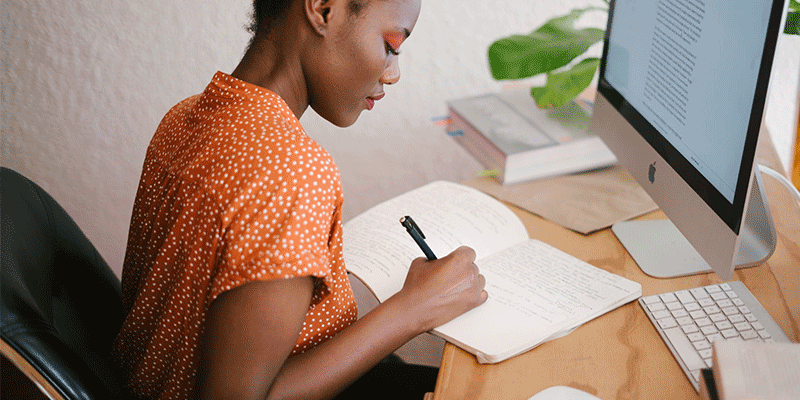 Did you know? Students tend to forget 42% of what they are taught in 20 minutes and more than 75% after a week of learning new skills.
7 Easy brainstorming techniques for higher creativity
How to take notes from a textbook?
Many students in college refrain from using textbooks because of being bombarded with information. Many even dislike reading books and call it a dull task. But class discussions may not cover everything end to end, which makes it even more detrimental to refer to textbooks. Here are some ways on how to take notes from a textbook.
Do not copy it blindly.

A bookish definition can be difficult to understand, so make sure your notes have paraphrasing in your own words and vocabulary.

Filter out the topics according to the syllabus, removing the extra.

Avoid distractions.

Break the sections setting deadlines and assigning schedules.

Assort to fast, focused reading.

Read the text, write down your understanding, and refer to the book again in case any point is missed.

Summarize the note, in the end, to capture the general idea concluding if any.

Colour code and make the corrections if the writing is not legible. 

Have a glance at the question banks for questions on the topic to gauge your understanding.
Guide to conducting & attending Remote Interviews
What are some tips on taking notes in an online class?
Here are some tips on taking notes in an online class:
Find a suitable note making app, like docs, or slides, evernote, google keep, simplenote etc.

Open the corresponding application for typing out the notes quickly alongside the online class teaching.

Have a template ready well in advance.

Use the editing features and colours for highlighting, alignment, and proper formatting to make the notes comprehensible and clear.

Get familiarised with the keyboard shortcuts.

Do not forget to save the document. You can also switch to online docs which automatically saves the content typed. 
Did you know? According to a recent study made by researchers, students can retain up to 34% of the teaching if they practice note taking. While not taking notes can only aid in remembering the teachings as less as 5%.
Best Morning Routines | Wake Up And Slay
What are some benefits of note making?
There are several benefits of note making.
Keeps you involved in the class.

Enhances memory, creativity, listening, comprehension, and time management skills.

Speeds up the writing.

Paraphrasing techniques can be obtained by regular practice of note making.

Keeps you up to date with the flow of teaching.

Makes exam preparation easy with organized, structured materials beforehand.

Boosts up confidence and focus.

Actively stretches your attention span.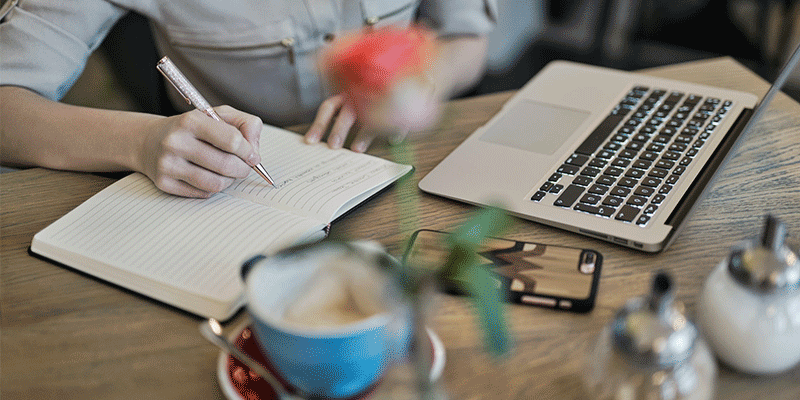 12 Highest paying remote jobs in 2020 | Best Work from home jobs
Which is the best way to take notes? Write or type?
Since the teaching styles are also changing, the note-making style is bound to change as well. But both have their pros and cons. The end goal is to come up with notes that one can retain for a longer time, be it typing or writing.
Writing notes benefits
Enhancing the focus and span of attention

Easy retaining and recalling 

Any style can be obtained

Paper and pen are handy when compared to laptops
Writing notes cons
Written notes can be easily stolen or misplaced, or even spoiled

One needs to assort to writing faster to not fall behind

Bad handwriting with spelling errors which would not make sense if referred by others

Wastage of paper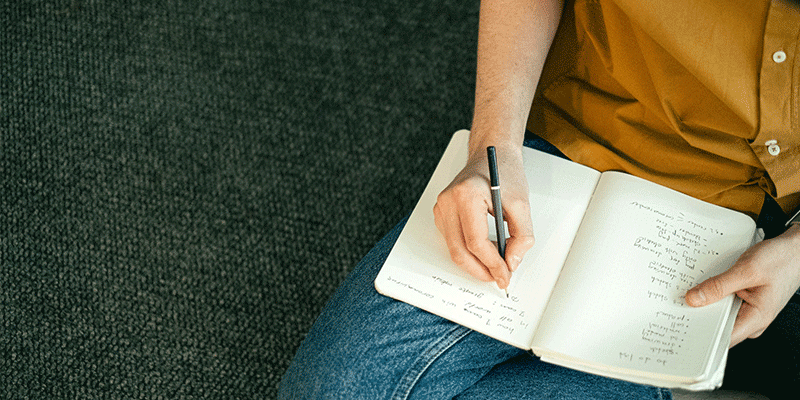 20 Best low stress jobs | High paying low stress jobs (With median pay)
Typing notes benefits
Shareable, customizable formats

Autocorrect, find, replace, and grammar check features

Adding hyperlinks and copy-paste is easy from various sources to aid in learning

No tension to run out of pages or pen

Accessible from anywhere
Typing notes cons
Not handy

Can strain eyes 

Offers distraction

Needs to be charged

Compatibility issues 

Can be overwhelming and confusing
8 Best free Video Conferencing Software | Connect, Communicate, Collaborate!
Students who naturally take notes in class are not easily diverted because their main focus is making the most out of the class. Making notes makes a student well prepared for the examination since day one. This also develops the habit of regular learning and revising. One can avoid tight, stiff situations and be spared of the pressure of collecting notes one day before the exam. This practice even pays off well in adulthood. It makes lives easier, making it less stressful, keeping you focused, and highly productive. If you'd like to excel in school or just want to get to the pinnacle of the working life, successful note-taking is a powerful ability to maintain and retrieve knowledge. Note taking mechanism is also revolutionized.
Note taking has gotten considerably increasingly huge and is not just limited to students alone. The presentation of electronic notes has made it simpler to share notes and is often free. This blog has covered all the basic steps and guidelines so you can learn how to take notes more efficiently.