Hiring a resume writer? Need to know how and where to find the best candidates? Here is a comprehensive guide to finding the best resume writers. Read on!
The job market is fierce and competitive, and a well-written CV can help you stand out from the pack. Professional CV writers are aware potential employers look at a CV briefly. A resume needs to create a favorable impression.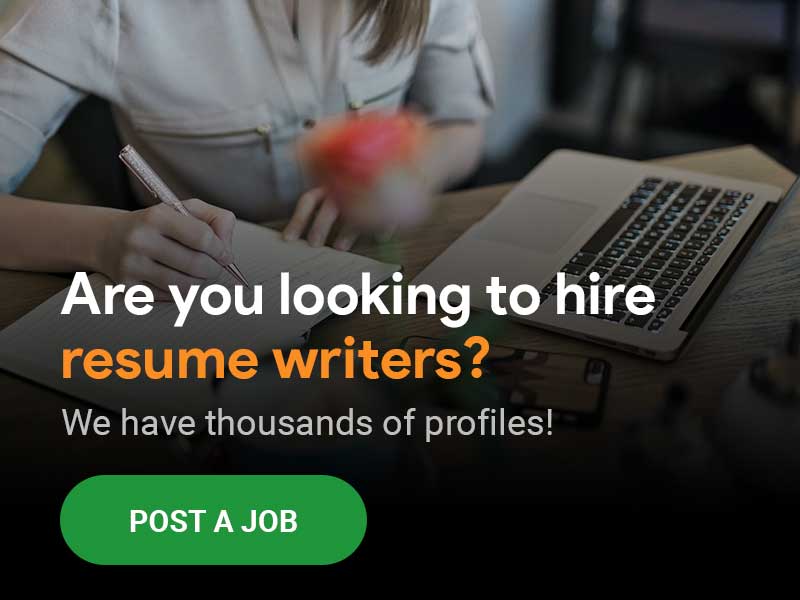 Freelance writers resume services will ensure your qualifications, job history, and experiences are well presented. They research the best formats that will catch a recruiter's attention. If you are wondering where to get a resume done? Professional cv writer may work for companies that write resumes or freelance resume writer.
Some of the best professional resume writers write specialized resumes e.g. an IT resume writer. When you hire a resume specialist, they will know the specific terminology that is used in the resumes to get it noticed. Whether you need help writing a resume or looking for professional resume editing services, our blog will give you some useful pointers.
Also Read: Hire Copywriter | An ultimate read for best results
Hiring market for freelance resume writer
The market outlook for freelance resume writer is bright, given the high unemployment rates in the USA. Resume builders help to revamp the resume of individuals looking for jobs. Only 1 in 6 candidates who apply for a post get called for interviews, and your resume is noticed.
The freelance resume writer job market is fierce. Several writers supplement their income by offering services such as career coaching or offering other types of freelance services. Professional resume helpers are hired by,
HR groups
New graduates
Individuals looking for new jobs
Business executives
Laid-off individuals
Also Read: Hire WordPress Developer | A how-to guide for beginners
Things to note while hiring resume writer
Are you thinking of hiring a resume writer or wondering should I pay someone to do my resume? You need to remember to verify the skills of the candidate. A well-written resume can help you stand out. Here are some things to note when you get your resume done professionally,
Have reasonable expectations – A well-written professional resume can be an asset for a job seeker and can help you get noticed by a potential employer. But you need to remember a resume writer can only provide you with a resume and not a job. You need to modify the resume depending on the job profile.
Have a reasonable budget – It cost money to hire someone to write a resume. The cost will depend on the quality and type of service you are looking for. Paid resume service can vary from $49 for a resume review to several thousand for an executive resume. Be wary of suspiciously cheap resume writing services, but you should not spend more than you can offer.
Find someone with experience in your industry – When you engage freelance resume writing service try looking for someone who understands the language, the best-practice, trends, and tricks for resumes in your fields. Using a specialized resume will give you an edge over a generic resume. E.g. Hire an IT resumes writer if you want a job in front-end development.
Ask for recommendations – Ask people in your network for recommendations and references. Reach to professional associations and ask for recommendations for a freelance resume writer that can write a resume that works.
Explore their online presence – A reputable resume writer should have an online presence:- they should have a website, LinkedIn profile, and professional social media platforms.
Look for professional credentials – There are several professional accreditations for resume writers. Most of the organizations offering these accreditations offer training as well. These certifications need renewal periodically. Even though the certification does not guarantee quality work it shows the writer wants to upgrade skills. The best resume writer should have valid certifications.
Seek out reviews – Many resume writers have positive reviews on their website. We suggest you dig a little deeper, check out their reviews on Yelp or Google. Try contacting a previous client for feedback.
Don't let geographical location be a constraint – Earlier we were limited by local resume writers. But thanks to the internet you can approach expert resume writers. You can correspond with an online resume writer without having met in person.
Follow the rule of three – When seeking resume writers we suggest you correspond with at least three resume writers before you finalize one.
Read and understand the contract before signing – Read the fine print and contract before signing the service contract carefully before signing it. Make sure to ask for clarifications before you sign the contract.
Also Read: Hire Logo Designer | Know before you start
Qualifications of best resume writers
Most resume writers have college degrees though there is no specific educational requirement. The writer needs to have typing skills, proofreading skills, and some elementary computer knowledge. Bachelor's in English shows the candidate will know grammar and have a strong command of the language. The best universities offering English programs are,
University of California, Berkeley
University of Chicago
Columbia University
Stanford University
University of Pennsylvania
A bachelor's degree in HR will equip the resume writer with some HR knowledge. The best universities offering HR are,
The University of Nebraska, Lincoln
The University of Pennsylvania
The University of Washington, Seattle campus
San Diego State University
University of Michigan, Dearborn
Also Read: Hire UI Designer | A complete guide
Skills and qualities to look for in resume writer
When you start the process of hiring resume writers, here are some skill and qualities you should look for someone to write a resume,
Industry experience – The cv writer or company that writes resumes must have relevant experience. Up to date with the information, trends, and technology – The technologies, industry norms and business trends used in the hiring process are changing and the online resume writer must keep themselves informed. The writer should be able to use the right technical jargon used in the industry and highlight relevant experience in your resume.
Experience in writing CVs – A professional CV writer is a combination of advertising, copywriter, graphic designer, professional, and visualizer. The CV prepared by the writer should be visually appealing, easy to read, and impressive.
Sincere and hardworking – The resume specialist should not take short cuts and use readymade templates and start tweaking the resume. They should be prepared to put in the required work and produce a unique resume in line with the industry standards.
Strong communication skills – Communication is a key skill every resume creator should have. They should be able to talk with the candidate and gather the required information. They should be able to present a resume covering the relevant information. The information should be comprehensive and easy to read.
Integrity – The CV writer is privy to a lot of confidential information about a candidate. This information should not be shared.
Empathetic – The resume writer needs to empathetic and be able to build a rapport with their client and draw out the information needs to write a good resume.
Personal touch – Several firms write resumes based on information provided on forms. The information provided on the forms is seldom enough. The writer needs to initiate a discussion to get to know the candidate.
Strong credential – the resume writer should be a college graduate and have required industry-specific certifications.
Also Read: Hire Database Administrator | Know before you start
Certifications to look for in resume writer
Resuming writing is a specialized field. Whether you need help writing a professional resume or want to pay to get your resume done. Here are some certifications to look for when you hire a resume writer,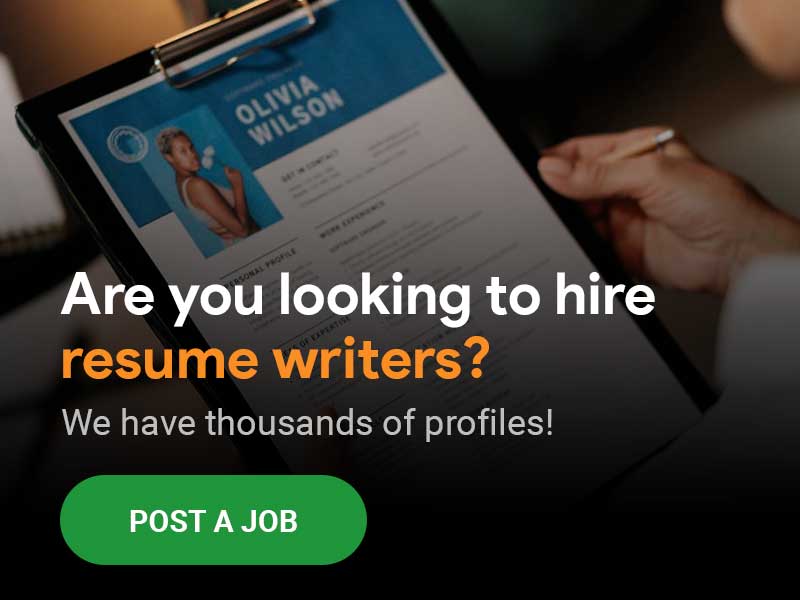 1. National Resume Writers Association (NRCW/NCOPE)
NRCW – Resume creators with National Certified Writer Credentials must meet the continuing education credits to meet the eligibility criteria. The writer needs to submit a sample of their work (resume and cover letter) to the certification panel. The sample needs to be accepted by the panel before the candidate can appear for the examination. The certification needs to renew after three years. A resume writer with NRCW certification should be a top resume writer.
NCOPE – A resume writer with a National Certified Online Profile Expert needs to display LinkedIn Recruiter proficiency. A freelance writing resume wanting NCOPE certification needs to complete a 5-week intensive course and clear an examination at the end of the certification. NCOPE certification needs to renew annually.
2. Academy Certified Resume Writer Certification (ARCW)
To get certified by the Academy Certified Resume Writer Certification, cv writers need to complete the three-month training program. The final assessments are graded and candidates need to get an A or B Grade.
3. Career Thought Leader (MRW)
The Master's Resume Writer certification is for a top resume writer that can demonstrate expertise in different aspects of resume writing. The professional resume helper needs to submit their portfolio to demonstrate their resume writing and strategy expertise and complete an English and grammar test. The CV helpers with 5 or more years of experience are eligible for the MRW certification.
4. Career Director International (CARW/CMRW/CERM/CCST/CGRA/CRS)
These are internationally recognized certifications valid for three years.
CARW (Certified Advanced Resume Writing Certification) is a first-level resume writing certification. The CV writer needs to read the resume writing guide and review a sample resume. There are three modules in the testing process.
CMRW (Certified Masters Resume Writing Certification) is a three-tier evaluation process. Candidates need to have a recognized resume certification, submit sample resumes, and certifications. They need to submit personal biographies and essays to demonstrate expertise. The CMRW needs to be renewed every three years.
CERM (Certified Executive Resume Master Certification) help resume consultant position themselves as a top-tier executive resource. The CERM is a two-step portfolio evaluation.
CCST (Certified Career Storyteller certification) has 17 sections of in-depth training and hands-on participation. The credential is given after the professional CV writers complete 16 assignments.
CGRA (Certified Graphic Resume Architect certification) is a portfolio evaluation process. Prerequisites include having a recognized certificate and submission of five resumes. One resume should have an originally designed header, charts/graphs, and use MS Word SmartArt.
CRS (Certified Resume Specialist Certification) has over 19+ specialties from IT military to civilian certification. This allows resume creators to acquire specialization.
5. Professional Association of Resume Writers and Career coach (CPRW)
A writer resumes possessing a CPRW examination having four modules. The resume writer needs to develop a sample resume and cover letter.
Also Read: Hire Bookkeepers | A complete guide
Resume writer rate per hour
The fees will depend on the type of resume you require, experience, and certification of the resume writer, skills, the experience of the writer. The professional resume writer charges in the USA can range from $100 to $2000. A resume for a retail job may cost $50 to $ 75 per resume. Executive resumes cost anywhere from $200 to $300 per resume.
It is possible for a resume writer to $58,000/year. The average resume writer can earn $23.26/hour. You can hire someone to write are resume in the UK can vary from £50 to £100. The average charge for a resume is £75. The average resume writer in the UK charges £24.52/hour.
In India, a resume writer's charges can range from Rs 999 to Rs 19,999/- per resume. Resume for entry-level candidates costs Rs 2850 – Rs 4000 while senior executive resume costs approximately Rs6450. The average resume writer in India is Rs 106/hour.
Also Read: Hire Software Developers | A comprehensive guide for beginners
Places to find best resume writer
Now that you have decided to opt for pay for resume services. You may want to know where can I get a resume made near me or look for resume writers online.
Upwork is one of the leading websites for freelance resume writers.
unremot.com gives access to resume design service providers from around the world. You can call shortlisted candidates through calls and messages.
Fiverr is an online marketplace for freelance candidates. You have the option to post requirements for "pay someone to do my resume".
Flexjobs is a career site for people looking for flexible jobs. You can post "write a resume for me" requirements.
Freelancer is the largest freelancing and crowd lancing website, you can pay for resume services.
Freelance writing jobs scours hundreds of websites to present all the freelance writing jobs in one place.
Craigslist is a buying and selling platform, people post local resume writing or resume builders near me.
Indeed is one of the leading job portal websites. The site helps you find candidates who do a resume.
LinkedIn is a social media website for professionals. The website has offers other professional services such as posting for requirements, you can view profiles for resume writes.
Writerbay is a website dedicated to writers. You can view profiles or write requirements "resume writers wanted"
Also Read: Hire Game Developers | A priceless list of tips to succeed
Top 10 companies hiring resume writer and salaries
When you are looking at hiring a resume writer, you have the option of opting for freelance writing resumes or a company where to get a resume done professionally. Here are the top 10 resume writing services you can approach,
Zipjob offers to make a resume for me using technologies such as Application Tracking Systems used by recruiters. Zipjobs writes resumes for several industries. It has a turnaround time of 3 to 7 days and pricing $139-299.
LinkedIn ProFinder – LinkedIn is a professional social media platform. LinkedIn Profinder provides career coaching and resumes writing. LinkedIn ProFinder gives you the option of looking for professional resume writers near me. LinkedIn ProFinder provides resume writing resumes for all industries. The turnaround time for a resume 3 to 14 days and pricing $100-$700.
TopResume – TopResume is one of the best companies that offer hire a resume writer services. All industries including military, academic, and federal resume. The turnaround time for a resume is 7 to 14 days and prices vary from $149 to $349.
The Muse- The Muse offers a different model to help me with my resume. Besides writing your resume they offer coaching services included in the price. The Muse provides resume services for all industries. The turnaround time for resume 4 to 7 days and pricing ranges from $149 to $1699.
CareerPerfect – CareerPerfect provides an online resume writing service with additional cover letter, interview, and job search. Career Perfect offers resume writing services for all industries including federal, executive, and entry-level candidates. The turnaround time is 4 to 5 days and pricing vary from $180 to $500.
Monster – Monster is a job board portal but it also provides users resume righter services. They offer add-ons such as writing cover letters and updated LinkedIn profiles. The turnaround time for a resume is 5 to 7 days and the charges range from $129 to $349.
Capstone Resume Service – Capstone Resume services offer a variety of specialized services. The turnaround time 5 to 7 days and prices vary from $149 to $299.
iHireFinance – iHireFinance is a niche resume writing service provider for the financial sector. The writing services can be integrated with the other services they provide. The turnaround time 5 to 7 days and the pricing is $395.
LiveCareer – LiveCareer started a career test site but now provides resume builders for hire. The turnaround time is 5 to 7 days and prices range from $99-$299.
Thumbtack – Thumbtack allows you to hire a resume writer and look for an ideal writer based on your preferences. The turnaround time 5 to 7 days with prices vary from $50-$149.
Also Read: Hire Sales Representatives | An ultimate read for best results
Steps involved in hiring best resume writer
Now that you have decided "I need help with my resume". Here are some steps that can help hire the best resume writers,
Choose a resume writing service, not a clerical service – There are clerical services that provide resume writing services. Resume writing services can help market you better. They provide resume writers who can write your resume with the latest trends and buzzwords.
Ask around for a great resume pro – try getting referrals either from acquaintances or from satisfied customers.
Request for free initial consultant – before offering freelance writer job to someone request for a meeting in person or via video conferencing.
A firm offering pay for resume services may have good or bad writers. Ask the writer what general strategy and how they will deal with your problems. The writer should be responsive.
Watch out for overuse of forms – Many resume writers have detailed forms. The form is an excellent starting point but is not enough. While looking for a resume to write my resume for me should interview you to discover your strength and skills.
Look for a fair price – When you know you need help with my resume, you need to pay them the market rates. Most resume writers expect a payment of $150-$1000. You may need to pay more for executive resumes.
Check out resume – Ask the samples of the freelancer's work. Look at the content, layout, etc.
Look for targeted resume – You need to avoid resume writers who use cut copy options. They should be to write targeted resumes to get them noticed.
Consider a certified resume writer – opt for certified resume writers.
Also Read: Hire Accountants | A how-to guide for beginners
Top 10 interview questions for resume writer
Now that you know the answer "should I hire a resume writer", here are some interview questions for resume writers.
Question 1: What is the purpose of a resume?
Rationale: A resume writer who offers to fix my resume services should be able to answer this question.
Answer: There are four purposes of writing resumes:- to get a job interview, to structure the interview process, to help the interviewer remember the candidate after the interview.
Question 2: What are the unbreakable rules of resume writing?
Rationale: Resumes for writers should know the basic writing rules.
Answer: There are two absolute rules in writing a resume:- no typos and misspelling and do not lie.
Question 3: What are the key aspects of a resume?
Rationale: A writer should know how to key aspects they need to highlight.
Answer: The best way to remember the key aspects is by using the acronym FAKTA which stands for Focus, Appearance, Keywords, Transferable skill, and Accomplishments.
Question 4: Why does a resume need to be sharply focused?
Rationale: The resume writer shows to know the importance of writing customized resumes.
Answer: Your resume needs to inform the reader about what you do and what are your assets. Research indicates readers peruse a resume for 6 seconds your resume must catch their attention.
Question 5: Is it better to position yourself as a generalist or specialist on your resume?
Rationale: This question will help you evaluate if the writer knows the difference between a general and a special resume.
Answer: Employers hire specific people for a particular job. Each job comes with a specific job description and responsibilities. Some job descriptions need a generalist (general manager, handyman) while some require a specialist.
Question 6: What should I put on my resume and what should I put out?
Rationale: Someone who you want to make my resume for me should be able to answer this question satisfactorily.
Answer: Your resume should add your work history, educational background and credentials, career summary/objectives, and contact details. You should leave out details that may expose you to discrimination such as age, marital status, religion, and country of origin.
Question 7: What goes first my education or my experience?
Rationale: if you are looking for someone to help me write my resume, they should know about the placement of things on your resume.
Answer: I normally place your strengths in the first section. If you are a fresh graduate or looking at an entry-level position I place education first. For experienced candidates, I generally place their work experience first.
Question 8: Which resume format is best for use: Chronological, Functional, or CV?
Rationale: You can assess the knowledge level of the resume writer.
Answer: The reverse chronological order is the resume most employers expect to see. The functional resume is used when you looking at a career change or for fresh graduates candidates who are working after a break. CV or Curriculum Vitae is mainly used by teachers, lawyers, and scientists.
Question 9: What should I use employment or experience?
Rationale: The resume writer should have a clear idea about different headings.
Answer: Always use the experience you will be able to employment history and include volunteer work, internships, class projects, etc.
Question 10: How should jobs be listed in the experience section?
Rationale: the resume writer should be able to answer questions about the flow of content in the resume.
Answer: You should start with your job title followed by- the company name and state, dates of employment, and a bullet list of accomplishments. Senior executives often add company history and reporting relationships (job title of the person you reported to and departments that reported to you).
Also Read: Hire Virtual Assistants | Know before you start
Top 10 tools to use while hiring resume writer
Hiring the best resume writer for your firm can be challenging. Fortunately, several recruitment tools have streamlined the hiring process. Top tools to use while hiring are,
Job boards – Job boards allow you to post a requirement about hiring someone to write a resume. You can view profiles of potential candidates. E.g Unremote and Upwork.
Application tracking system – Application tracking systems allow us to track the candidates through the recruitment process. The tool makes sure the resume meets the mandatory requirements for the job. E.g. Greenhouse and Pinpoint
Testing & Assessment – these tools assess the ability of the candidate during the hiring process.
AI & Automation – AI and automation tools use AI to screen candidates, analyze data, and chat with the client. Textio and Zoom.ai are some AI tools.
Recruitment CRM – Recruitment CRM helps the HR department maintain a relationship with potential recruits through the hiring process. E.g. Talent Recruits.
Video interviewing – Video conferencing and interviewing tools allow you to interact with the candidate using technology. Some video interviewing tools are HireVue and VidCruiter.
Optimize job advertisement – The wording of the job posting is important. Tools analyze the language and help make the job posting more appealing. E.g/ TextAnalyze
Social recruitment – Social media has become a big recruitment tool. Social media such as LinkedIn and Facebook are effective tools to find the right candidate.
Talent Intelligence System – Talent Intelligence systems allow HR managers to take unbiased decisions. E.g. Ideal
Onboarding tools – Onboarding tools can help to integrate the candidate into your organization. Some popular Onboarding tools are BambooHr and ClickBoarding.
Also Read: Hire mobile app developers | A complete guide
Dos and don'ts while hiring resume writer
List of Dos,
Hire resume writer who offers samples of their work
Hire a resume writer who is a certified resume writer.
Hire resume writer who keeps themselves updated with the latest practices in HR.
Hire a writer with good communication skills.
Hire resume writer after investigating them.
Hire a resume writer with relevant resume writing experience for the sector. They should know the keywords and phrases to include in the resume.
Hires resume writer worked with clients with your experience level.
Hire a resume writer who ensures your resume is optimized for applicant tracking systems.
Hire resume writers who have received good reviews from previous clients.
Be forthcoming with the resume writer during your interaction with them. The more information you provide will help them create a balanced resume.
List of Donts,
Hire a resume writer who does not have a LinkedIn profile or a credible website
Eliminate resume writers who don't want to consult or interview you and sends a questionnaire instead.
Hire a resume writer who offers a cookie-cutter resume to you.
Hire a resume writer who offers a very low quote.
Hire a resume writer who uses inconsistent formatting.
Hire a resume writer who writes multiple page resumes or writes irrelevant information.
Hire a resume writer who does not take client confidentiality seriously.
Hire a resume writer who offers resumes in a few hours
Hire a resume writer who has unambiguous contracts
Go in with an unrealistic expectation. A good resume does not guarantee a job
Also Read: Hiring freelance SEOs | Everything you must know
How much does it cost to have someone write your resume?
Professional resume consultant services charges can vary from $100-$2000. The costs depend on the type of resume you want to be written, the experience and skills of the writer, and the method to write the resume. Cheap resume writers can charge as little as $5 on Fiverr.
Is hiring a resume writer worth it?
Yes, it is worth it to get my resume done professionally. It is a viable investment in your career if it can help your resume stand out. A good resume can help get shortlisted for the interview and get selected for a position that will be financially and professionally rewarding.