Passionate about the science and art behind fashion? Want to step into a career in remote fashion jobs? Here's a complete guide for you – read on!
The fashion industry is a vast exciting field, from fashion designing, merchandising, marketing, and journalism it can be a rewarding career. The fashion industry was centered on the fashion capitals, most of the jobs opportunities were centered around these cities. The digital space has made remote fashion jobs possible.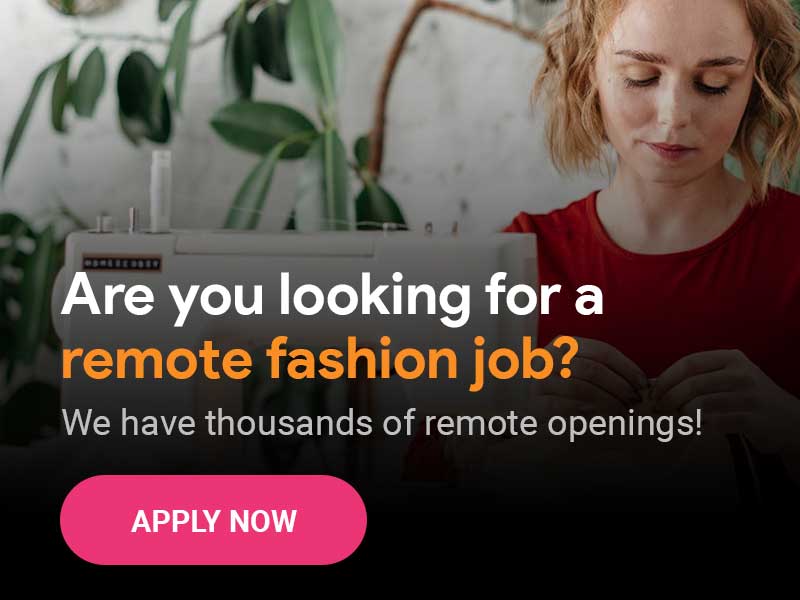 Remote fashion jobs such as a stylist can easily suggest clothing and accessories for customers, and work in collaboration with fashion professionals to help their client's wardrobes. Work from home fashion jobs can be freelance fashion jobs from home, or full-time fashion jobs, or part-time fashion jobs.
Also Read: Remote education jobs | An ultimate read for best results
Market opportunity for remote fashion jobs
Many people in the fashion industry are well equipped to work from home. During the pandemic, the fashion industry had to look for alternative ways to operate within the travel and meeting restrictions. Designers and manufacturers started using 3D platforms to efficiently work from home.
Several digital fashion companies have found ways of performing virtual photo-shoots where no physical garments or on-location sites were necessary. According to the occupational outlook handbook, the fashion designer job market will contract by 4% from 2019 to 2029.
Also Read: Dispatcher interview questions | A priceless list of tips to succeed
Job titles and career paths under remote fashion jobs
Presently the top ten careers in the fashion industry are,
Garment Technologist works on developing new materials by testing different combinations of yarn and textiles. They help to make production technologies more efficient.
Fashion Designers have the highest job profile in the fashion industry. They work on the design of clothes and fashion ranges.
Retail Buyer helps to source garments and stocked in advance for an upcoming season.
Fashion Illustrator works with fashion designers for conceptual sketches and illustrations of fashion products.
Merchandiser work with buying teams to ensure the products appears at stores at the right time and quantities.
Fashion Stylists help to bring the photographer or art director's vision to life.
Textile designers create 2D designs for patterns to be used in different textiles. These are done for interiors (carpets) and clothing.
The personal stylist works in a retail setting to advise people on styling and clothing.
Fashion Public Relationship is focused on PR for fashion labels.
Fashion Writer works with fashion PR to write articles and editorials for the fashion industry.
The top career path for work from home beauty jobs are,
Hair Salon owner
Theatrical makeup artists put makeup for theater, movies, and television.
Microdermabrasion Specialist helps people look youthful.
Permanent Makeup Artist applies long-lasting treatment.
Hair Product Sales Rep works with manufacturers and distributors wanting to bring its products to salons and stylists.
Cosmetology Business Owner
Also Read: Video editor interview questions | A comprehensive guide for beginners
Qualification needed for remote fashion jobs
Qualifications are not mandatory if you are interested in fashion remote-jobs, however, a degree in fashion designer or merchandising helps. These programs help you understand fabrics, textiles and learn how to use various computer-aided tools.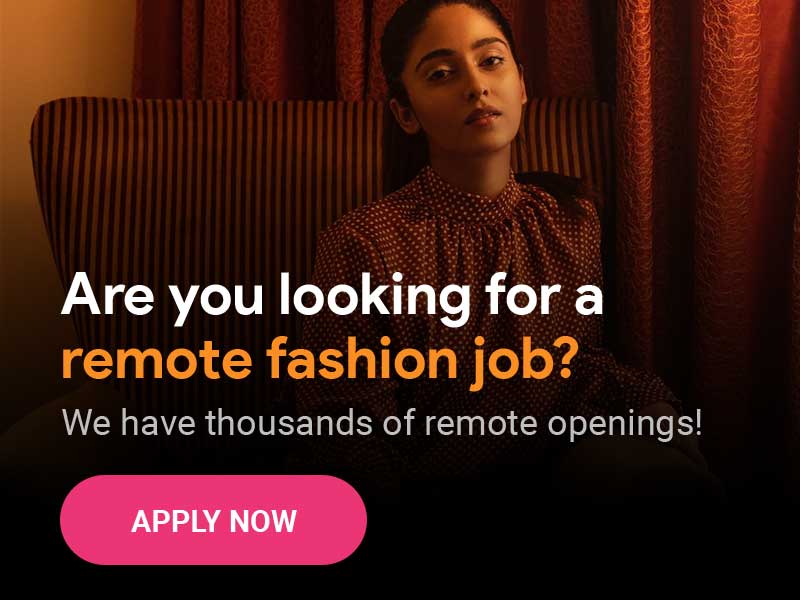 While studying it is important to start building a portfolio. Your portfolio contains your design ideas and showcases your style and abilities. Potential employers evaluate your portfolio. The best schools to study fashion is,
Parson, The New School for Design
Fashion Institute of Technology
Pratt
Kent State University
Academy of Art University
The best cosmology programs for beauty jobs are,
The Aveda Institute
Paul Mitchell Schools
Empire Beauty school
Pivot Academy Beauty School
The Sassoon Academy
Also Read: Animation interview questions | Everything you must know
Skills needed for remote fashion jobs
If you are interested in jobs in the beauty and fashion industry the following skills will help you stand out in the competitive industry,
Drawing and sewing skills are vital skills in the fashion industry. All clothes start with a simple sketch, in the fashion world it is important you translate your ideas on paper. Sketching well will allow you to share your ideas. It is important to know how to operate the sewing machine and sew from patterns. To make your own garments you need to which fabrics and materials work together.
Strong Communication skills are extremely important. Jobs in beauty and fashion require people to communicate effectively with multiple stakeholders.
An eye for visualization is an essential skill for the fashion industry. If you are a designer, you need to able to imagine the collection before it is finished. You need a mental picture of which accessories will complement or clutter the outfit. Buyers or merchandisers will need to lineup the shelves to attract the customers.
Understanding how the fashion industry works irrespective of whether you are working in fashion freelance jobs or in a fashion house. You need to balance your budget and price your merchandise accurately. As a merchandiser, you will need to anticipate what the buyer needs. You need to choose the best merchandise within your price range.
Also Read: Illustration interview questions | A complete guide
Roles and responsibilities of remote fashion jobs
The role and responsibilities for online fashion designing jobs work home are,
Managing the design process from conception to final styling.
Carry out market research to recognize new trends, fabrics, and techniques for design inspiration.
Use computer-aided-design (CAD) programs to create a design.
Work with your team to select a theme, make edits if required, and create new designs.
Ensure the product is in line with the business strategy.
Select appropriate fabrics and accessories for the garment.
Create production sketches for development packages.
Collaborate with the technical designer to ensure the precision of the development package.
Review product for style and fit during the presentation.
Present story, board, color boards, and samples.
Roles and responsibilities for jobs in the beauty industry,
Identify different skin types and suggest appropriate products.
Inform clients about different makeup technology.
Help the client find a solution to hair and skin problems.
Inform the client regarding prices and special offers.
Maintain client relationships through follow-up mail
Also Read: Health coach interview questions | Know before you start
Certifications to get remote fashion jobs
Certifications are not a must for the fashion industry but can improve prospects in careers in beauty and fashion. Some of the best certifications you can consider are,
Adobe Certified Associate certifications are industrial certifications to certify your skills in using Adobe software. Adobe Certifications useful for fashion jobs in the USA are,
Adobe Illustrator ACE Certification
Adobe Photoshop ACE Certification
Masters Sewing and Design Profession (MDSP) Certification Program is developed by the Association of Sewing and Design Professionals (ASDP).
Fashion, Textiles, and Apparel Assessment and Certification by the American Association of Family & Consumer Science.
Certification in cosmetology
Certification Programs from the Fashion Institute of Technology
Also Read: Teacher interview questions | A how-to guide for beginners
Top 10 tools needed for remote fashion jobs
Fashion is not just about producing incredible designs. To do fashion work from home jobs effectively from home you need the right tools.
Sewing tools are essential for anyone in the fashion industry. Sewing tools are fabric shears, dress pins, clippers, tape measure, tracing wheel tool, weights, thread spool stand, pressing cloth, seam ripper, tailors chalk, yardstick, sketch and tracing paper roll, beeswax, etc.
Sewing machine to sew clothes in a matter of minutes is essential for home-based fashion jobs.
Needles are needed for most fashion jobs work from home. There are around 20 varieties of needles that you may need.
Threads help to sew the fabric together. You will need a variety of threads of different colors for sewing and embroidery. Some of the threads commonly used are shirring thread, silk threads, cotton threads, elastics, embroidery thread, etc.
Pattern making tools will help you create patterns, draw straight lines, add seam lines, mark in hip lines, grain lines, etc. Some common pattern making tools are tracing wheel, French curves, hip curve tool, ruler, etc.
Product development tools such as white bond paper, pencils, and drafting boards help translate your ideas onto paper.
Dress forms are 3D models of the torso used for fitting clothes being designed or sewed. It can help you see how the garment will look on the body.
Fabric pressing help to iron out creases before cutting reinforces seams, and pleats.
Cad assisted tools such as Adobe Photoshop, Adobe Illustrator, and Adobe creative cloud help you do online fashion jobs from home seamlessly. 3D platforms such as Unmade and Platforme help them conceptualize the design.
Fabrics are needed by anyone operating in fashion.
Also Read: Medical coder interview questions | An ultimate read for best results
Top 25 dream companies for remote fashion jobs
We have listed some of the dream companies if you are looking for at-home fashion jobs or at home beauty jobs,
Modai Operandi is an e-commerce platform for fashion.
Torrid LLC is a women's apparel chain.
Bizzard Entertainment is an American video game developing company.
Cala Partner pairs clients with remote designers.
Neiman Marcus is an online fashion stylist.
Techstyle Fashion Group is an online, membership fashion retailer.
Bombfell is a men's clothing apparel company.
Project YX is a luxury brand.
BaubleBar specializes in jewelry.
SDLL Design LLC offers design services.
ComfyCamper is the fastest-growing child and dog custom brand.
Ann Caruso is a leading fashion, wellness, and beauty consultant.
Beyond the Runway is a fashion start-up.
Jet Noire is a Fashion PR firm.
Create Me is a research and development company.
Browzwear is a leader in 3D fashion design.
Mohawk Industries is an American flooring manufacturer.
Fashion Touch USA specializes in beach and casual wear.
Mercado Global is an accessories brand.
Veeva Systems is an American cloud-computing company.
L'Oreal is a leading cosmetic company is a perfect opportunity for those interested in corporate beauty jobs.
Andis Company is a leading designer and manufacturer of clippers and hairstylist equipment.
Helen of Troy is a worldwide marketer and developer of beauty products.
Southern Career Institute is an education and career training institute.
BASF is a multinational chemical company.
Also Read: C# Remote Jobs | A priceless list of tips to succeed
Top job boards to find remote fashion jobs
We have compiled a list to help you find fashion jobs. There are several websites that give regular updates for freelance beauty jobs, fashion freelance jobs, fashion part-time jobs, and full-time positions.
FlexJobs is one of the best job boards for remote work.
LinkedIn is a professional social networking site. The site also provides business and employment-oriented services.
unremot.com is a website focused on remote jobs. The website provides useful tips to anyone interested in virtual fashion jobs.
VirtualVocation provides a service that specializes in remote jobs. Those interested in fashion and beauty jobs will find an opening for remote work in the category.
Upwork connects businesses with freelancing platforms.
Simplyhired is a job board listing both on-site and remote jobs.
Indeed is a job board listing website that lists both on-site and remote jobs.
Fashionista is a fashion magazine that posts fashion job hiring requirements.
Businessoffashion contains comprehensive analytical and authoritative information on the fashion industry. The portal posts job posting from around the world.
AllWorkBeauty allows you to apply to the top beauty brands.
Also Read: Remote Product Manager Jobs | A comprehensive guide for beginners
Top resume elements of remote fashion jobs
When you apply for online fashion jobs work from home and online beauty jobs you need to customize your resume for the job you are applying for. Your resume should have 6 sections.
Header section with contact information and link to your design portfolio.
The summary section focuses on years of experience, specialization (women's daily wear), and an indicator you can produce quality work. Highlight a well-rounded professional experience.
Experience section to highlight achievements.
Skill sections are technical and soft-skills
Technical skills fashion jobs from home,
Excellent sense of style
Knowledge of fashion trends
Consumer behavior and buying habits
Apparel
Product Development
Design concept
Garment construction
Cad Software
Textile
Production Technique
Technical skills for beauty jobs from home,
Range of beauty treatments to clients (manicure and pedicure, tanning, massage, waxing, facials, and eyebrow trimming).
Aromatherapy treatments
Hairstylist
Masseuse techniques
Soft skills that you must include,
Creativity
Adaptability
Organization
Attention to detail
Working well in teams
Excellent written and verbal communication
Patience
Fast-learner
Ability to manage multiple projects and deadlines
Time management
Education section
Industrial certification section (optional)
Also Read: Remote Jobs for College Students | Everything you must know
Remote fashion jobs pay structures
The pay structures in the fashion industry are as follows,
Virtual stylist : $46,217/annually , a Bombfell stylist earns $14/hour.
Virtual fashion designer : $56,737/annually
Fashion Merchandiser : $45,132/annually
The average salary for a virtual beauty assistant is $17,717/year. It can go as high as $25,000/year to 1ow $14,000/year. Salaries differ depending on your location.
Salary for beauty jobs in Chicago ranges from $22, 573 to $33,010/year.
Salary for beauty jobs in New York ranges from $12,614 to $54,843/year
Also Read: Remote SQL Jobs | A complete guide
Entry level remote fashion jobs
While looking at fashion job listing you will find most fashion houses ask for candidates with experience. A fashion internship is the first step to getting your first fashion job. There are two types of internships in the fashion industry one for students (usually for a college course) and those for fresh graduates.
The fashion sector is extremely competitive and you need to be resourceful. In addition to applying to a job listed in fashion job search engines, you can send direct emails to recruiters or to a person you want to work with.
You can opt for free fashion jobs such as working backstage for an event to build some experience. Networking is extremely important in the fashion business. Consult fashion monitor jobs for the latest job postings.
If you enjoy traveling you can try applying for fashion traveling jobs. It is vital you build and improve your portfolio continuously. Especially if you are a designer, stylist, buyer, photographer, etc. Consider collaborating with other students to build your portfolio.
Most beauty schools help their students in beauty jobs hiring. Contact the placement department in your school for tips to market yourself better. You can approach your local salon to kick-start work in the beauty business.
Also Read: Accounting Interview Questions | Know before you start
What's the highest paying job in fashion?
The highest paying fashion jobs are,
Design Director ($136,685/year)
Creative Director ($109,013/year)
Product Manager ($106,480/year)
Sourcing Manager ($94,485/year)
Art Director ($76,485/year)
How much do Vogue editors get paid?
According to Glassdoor, Vogue editors get $72,363/year.
How do I get a job in fashion merchandising?
If you are interested in a career in fashion merchandising you can enroll in a 2-year program in merchandising.
You should participate in a merchandising internship. Start developing a portfolio. It is important to build your portfolio to reflect your personal brand to gain a competitive edge.
Work in a small accessory shop to gain some retail experience.
Review fashion job postings to view the skills and qualities required.
Compose your resume to make it relevant to the post.
Start applying for merchandising positions you find online and through your school. Remember you need to network.
Do Vogue employees get free clothes?
The staff working at Vogue or any other fashion magazine gets free products, clothes, and accessories. Some of the other perks include trips abroad and parties.
How do I get a fashion job with no experience?
Networking is extremely important to get your first break in fashion. Internships are another way to get a fashion experience.
How do you become a fashion editor?
A fashion editor is someone who supervises all activities of pitching to publishing all articles related to the fashion industry. Some tips for aspiring editors are,
Get noticed either by blogging or write for a fashion publication. You need to demonstrate your passion for the fashion industry.
It is important to build a portfolio of your work.
Working as an editor's assistance is a perfect way to get some experience as a fashion editor.
You need to be a hard worker, responsible. Knowledge about the best journalistic practices is important.