Team communication is a top priority for well functioning distributed teams and that has been our focus for the past month. A number of studies indicate that only when done right, remote working increases employee satisfaction & in turn productivity. So we've added much-awaited features on UnRemot to help you communicate with your teams easily & efficiently.
Here's a list of the new features you'll find on UnRemot:
Virtual office

Text chats – for groups & individuals

Team Tracking

Profile page

New home page
What's new on UnRemot?
1. Virtual office
The virtual office is a space to help you visualize your teams in an office-like setting. Here you can check which of your team members are available, and collaborate with them right there. By collaboration we mean you can hear your teammates speak as well as share screens. This feature gets you as close to the physical office experience as you can remotely.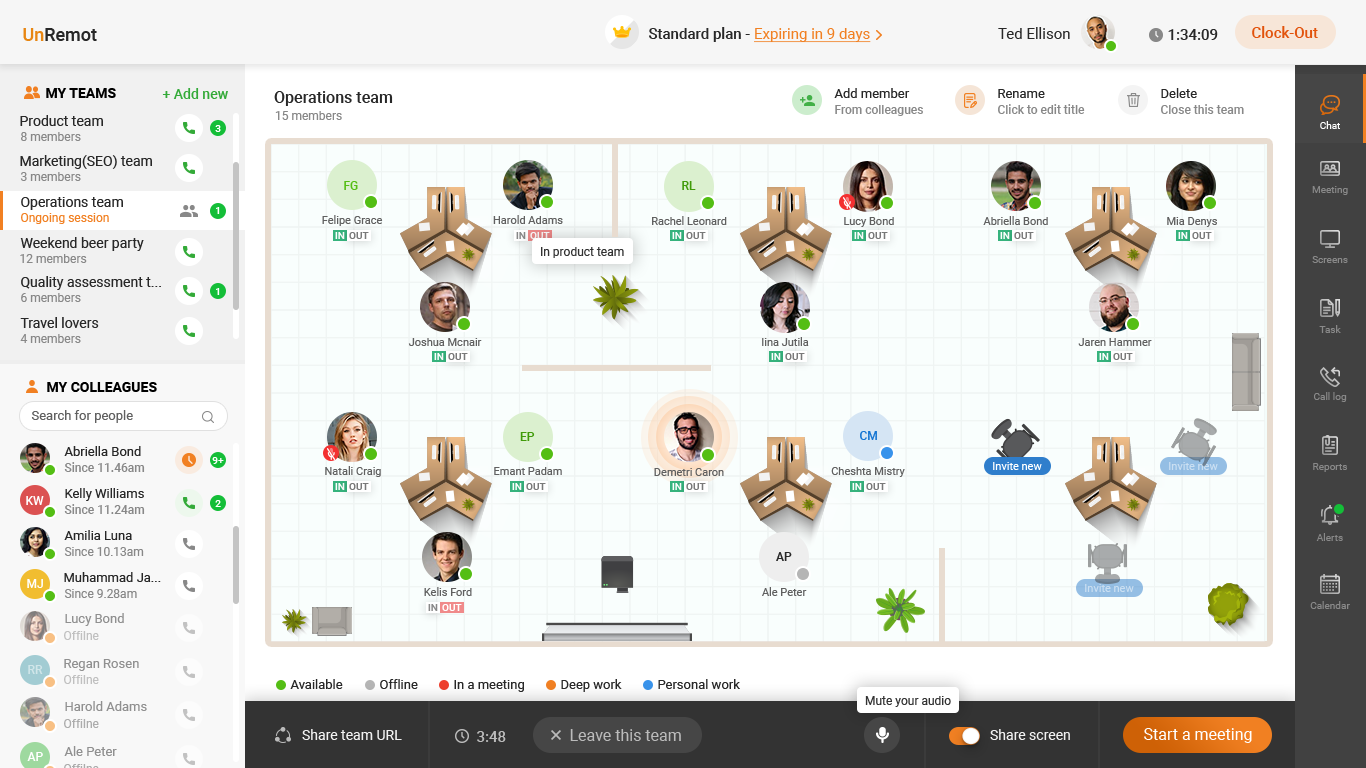 Create your free virtual office here
2. Text chats
One of the most awaited features of UnRemot, text chats or messages is now ready to use! Available on the right panel, you can use this feature to communicate with your teams in groups or individually with your teammates.
3. Team tracking/ Availability status
You can now share or track the availability status of your team members on UnRemot. This feature allows you to let your team members know when you are
Available

Offline

In a meeting

Deep work mode

Personal work
Fun fact:  The "Deep work mode" was suggested to us by one of our early users. This allows individuals to let other team members know that they don't want to be disturbed. To lear more about the Deep Work Philosophy check out this post.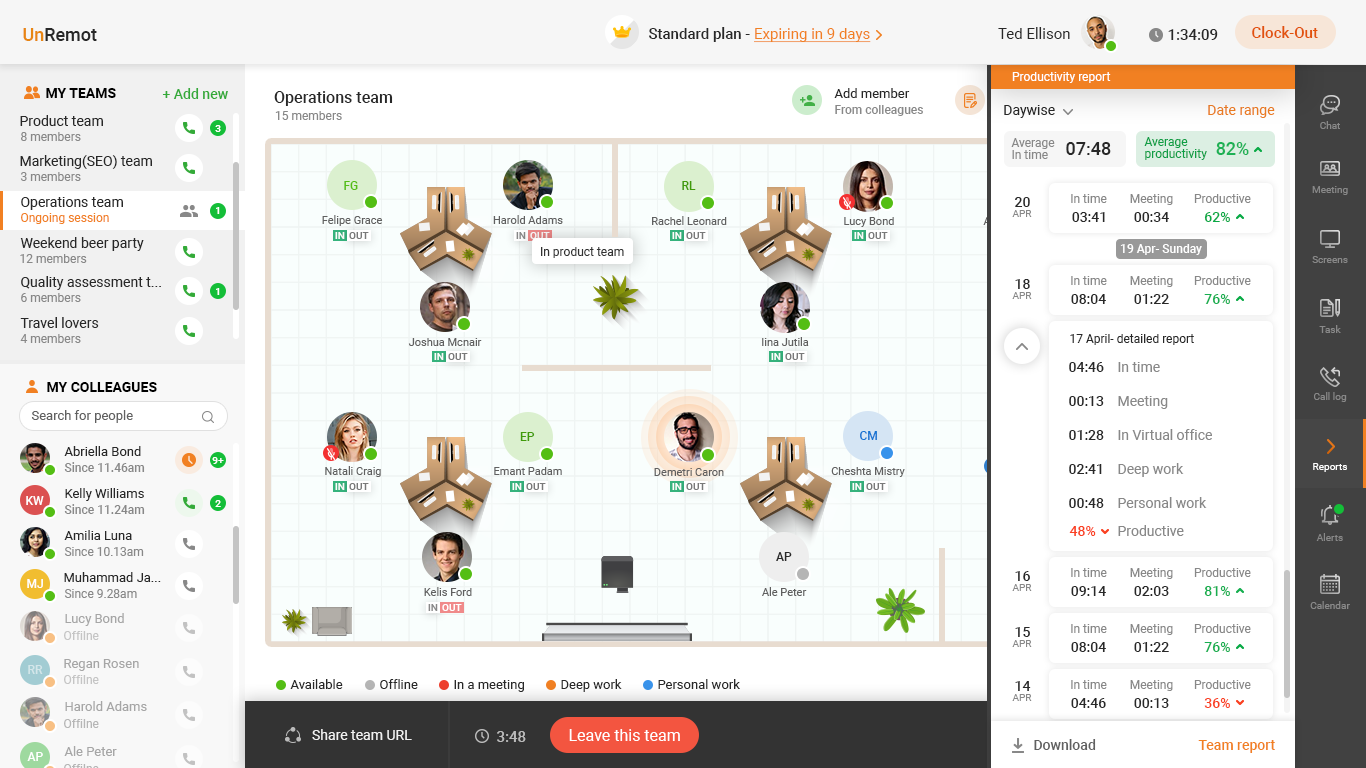 We make it a point to note and deliver customer feature requests. Do you have some suggestions/ ideas that will help us improve your remote work experience? Please write to us at hello@unremot.com.
4. New profile page
We've created a new profile page for you to set-up your UnRemot profile as well as track your billing. Apart from the profile, you will also find your current UnRemot plan on the top panel of your dashboard. This is to help you easily view and change your current subscription.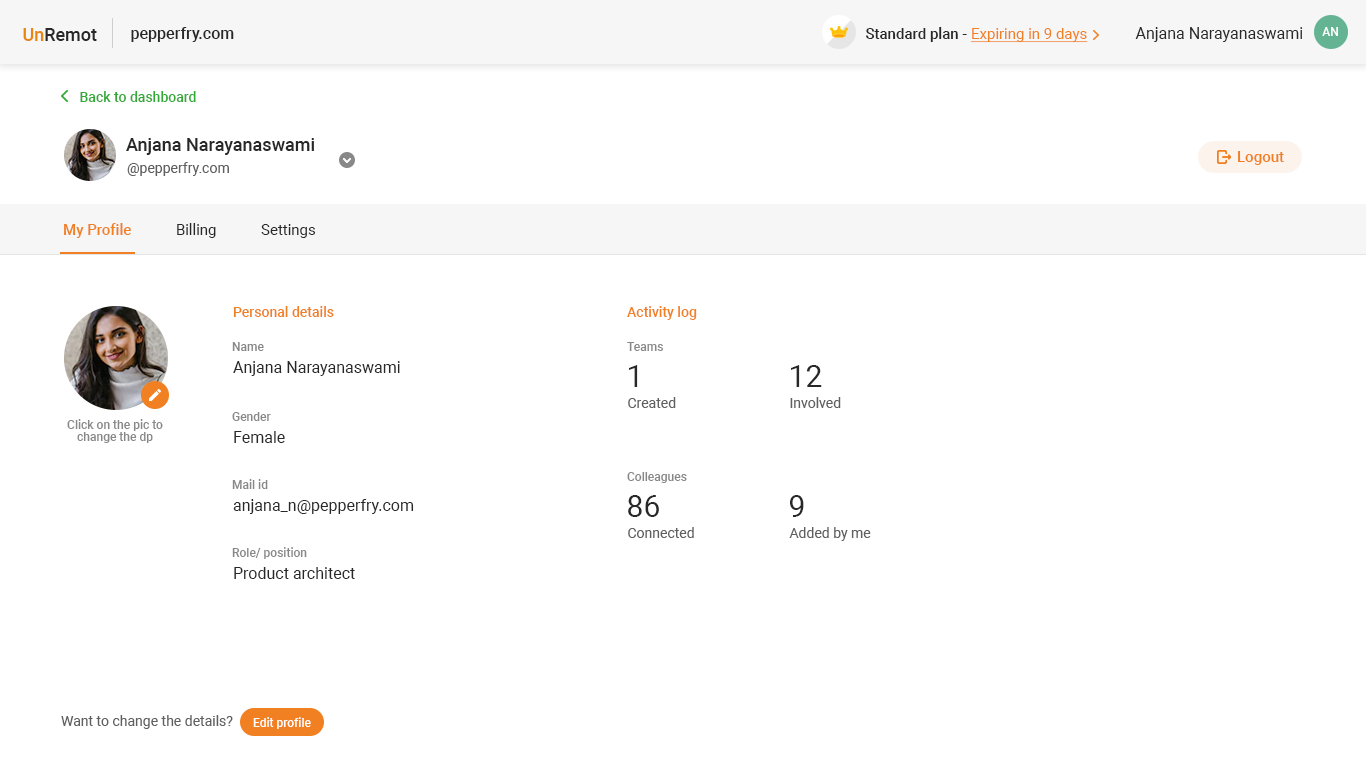 To update your profile now click here.
5. New home page
Finally, one of the other updates we've made on UnRemot is to improve our home page. Why? Because an awesome product deserves an awesome home page. Have you seen it yet? Click here to check it out!
What's coming next on UnRemot?
At UnRemot, innovation never stops. We are committed to making your remote work experience the best it can be. Here's a sneak peek at what we are currently working on.
Productivity reports

File Sharing

Google Drive integration

Console to manage team

Integration with Calendar
More on these in the next update!