Solana vs Ethereum
Thirteen years ago, the first Bitcoin triggered a revolution by launching the first decentralized blockchain ledger. Since then the cryptocurrency space has grown exponentially with new blockchain-based project being launched every week.  Currently, there are 1000 blockchain platforms to choose from and customers often get confused which platform to select. In this blog, we will compare Solana vs. Ethereum.
What is Solana?
Do you know who created Solana? Let us start with when was Solana launched. Anatoly Yakavenko a Russian computer scientist founded Solana.  The crypto was released in April 2019 and the Solona cryptocurrency (SOLUSD) was available in 2020. Solana is a blockchain platform started to run scalable and decentralized app. It is based on the proof of history principle.
If we compare Solana vs Ethereum, Solana processes are much faster than Ethereum and it charges a significantly lower transaction fee. Like Ethereum, Solana provides a platform for non-fungible tokens and decentralized applications (DApps).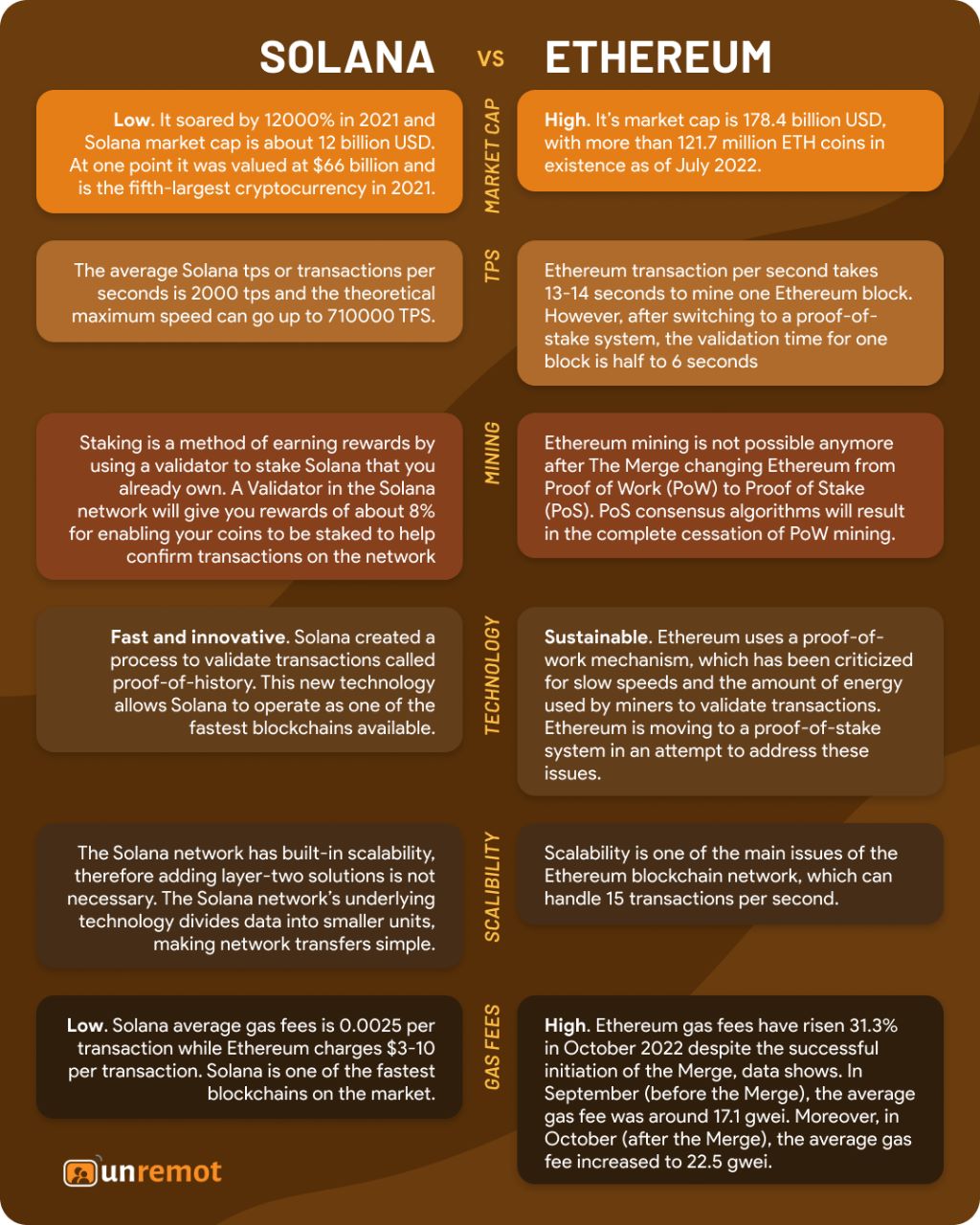 Also read: Decentraland vs Sandbox: Complete analysis of the top Metaverses
What is Solana market cap?
Solana introduced in 2020 is relatively new to the cryptocurrency market. The Solana ticker uses  SOL it soared by 12000% in 2021 and Solana market cap is about 12 billion USD.  At one point it was valued at $66 billion and is the fifth-largest cryptocurrency in 2021. The SOL was affected by the cryptomarket fall in 2022 and its valuation dropped to $11.71 billion USD. It is currently in ninth place in market capitalization. If we compare the marketcap of SOL Vs ETH – SOL market cap stands at 56 billion USD while ETH stands at $497 billion USD.
What is Solana tps?
Solana is one of the fastest blockchains in the market. The average Solana tps or transactions per seconds is 2000 tps and the theoretical maximum speed can go up to 710000 TPS. Solana is also affordable with average transaction cost of 0.00025 USD per transaction. Solana affordable and speed make it ideal solution for NFT trading, blockchain video games, or sending SOL to a friend or colleague 
Can you do Solana mining?
Is it possible to do Solana mining because it is proof of stake coin. Solana does provide two essential ways for you to support the network in exchange for perks
Staking is a method of earning rewards by using a validator to stake Solana that you already own.  A Validator in the Solana network will give you rewards of about 8% for enabling your coins to be staked to help confirm transactions on the network, much like a bank pays interest on your deposits in exchange for using your funds to pay for mortgages and other investments.
Validation is the process where a powerful server in the data centre verifies transactions on the Solana network. Validators earn a commission on all the rewards produced by anyone who stakes with you.
Also read: 8 best list of smart contract platforms
What are the different Solana programming language used?
Solana allows developers to write on-chain programs in languages such as C, C++ or Rust. There are different Solana programming – dApps and smart contracts. Although Solana programs are the basis of Solana programming, Solana dapps can be built using on-chain data and Solana wallets like Phantom without creating any Solana programmes. Even though the programs allow tokens to be created, you can do it without writing your own Solana programme. So, everything depends on your preferences and aims. As a programmer you can also use Moralis for programming.
Why are Solana gas fees so low?
When you compare Solana vs Ethereum in terms of gas fees you find Solana gas fees much lower. Solana average gas fees is 0.0025  per transaction while Ethereum charges $3-10 per transaction. Solana is one of the fastest blockchains on the market. It outperforms Ethereum in terms of block size (20,000 transactions) and block time (0.4 seconds) (block time: 13 seconds, block size: 70 transactions).  The Solana network offers an exceptionally cheap transaction cost is made possible by the greater block time and block size. 
Can you build a coin off Solana?
Before you build a coin off Solana, you need some Solana. To get Solana, you can airdrop from your terminal. You can use the Token program written in Rust to create your own tokens.
Also read: 10 Best Defi Wallet 2022 | Top decentralized finance cryptocurrency wallets 
What are Solana smart contract?
Solana smart contract can be broken into two parts – the Solana network and smart contracts. The network features smart contract and developers can create Web3 projects and dapps that are supported by the Solana blockchain. Solana uses a hybrid consensus process that combines proof-of-history (PoH) and proof-of-stake (PoS) (proof-of-stake). Solana is able to keep transaction speeds high and prices low by utilising the two techniques. The focus on speed and scalability also makes Solana programming faster and more cost-effective than other rivals.
Ethereum blockchain
Ethereum blockchain was created to power thousands of decentralised transaction (ETH).  The blockchain is used for building decentralized apps and smarts contracts. Ethereum is designed to be scalable, programmable, secure, and decentralized. There are no restrictions on what the users can do to promote creativity. The network interactions or transactions are stored on the Ethereum blockchain. Before committing them to the network and serving as a digital ledger or transaction history, miners validate these blocks. Proving transactions by mining is referred to as a proof-of-work (PoW) consensus technique.
What is Ethereum market cap?
If we compare Solana vs. Ethereum for market cap we can see both blockchains have their own native currency. Ethereum market cap is 178.4 billion USD, with more than 121.7 million ETH coins in existence as of July 2022. Ethereum is second most used cryptocurrency after bitcoin. The Solana blockchain does not have a set maximum supply of SOL. Instead, it uses set inflation rate that is declining over time and reaches 1.5% over in the long run. Solana's market cap is 12.57 billion USD. 
What is Ethereum transactions per second?
Ethereum transaction per second takes 13-14 seconds to mine one Ethereum block. However, after switching to a proof-of-stake system, the validation time for one block will be cut in half to 12 seconds, which will still be faster even though it won't be noticeable to the user. Ethereum 1.0 has transaction per second of 30 TPS. If we compare Solana vs Ethereum 2.0 TPS, Solana can process over 50000 transactions per second while Ethereum 2.0 is said to process 100000 transactions per second.
Also read: 16 Best Metaverse crypto projects you should know about
Are Ethereum investment worth it?
Many new investors wonder are Ethereum investments worth it. Since its 2014 official launch, Ethereum has been doing well. Given the asset's historical record, investors who allowed it enough time to develop will probably have received excellent returns. No matter when an investor purchases ETH, in the past, it has been possible to make money by simply waiting, making ETH a fantastic long-term cryptocurrency investment. Ethereum continued to grow steadily till 2018. The prices fell in 2022 with inflation and war concerns. Experts feel the price Eth should hit 7985 USD.
What is difference between eth vs eth2?
There is a lot of speculation what is difference between ETH vs ETH2. ETH 2.0 is considered to be an upgrade of the Ethereum blockchain. Ethereum Foundation updated the system was updated to improve the network speed, efficiency, and scalability. 
Ethereum 2.0 blockchain utilizes PoS (Proof of Stake) instead of PoW (Proof of Work) for this function. Ethereum 2.0 has a new consensus mechanism where validators hash the new block.

ETH2 has introduced the sharding mechanism where data is over multiple processors to improve processing speed. Ethereum has introduced 64 shards. 

Beacon chains is another difference between Eth and ETH 2.0. 
What is Ethereum blockchain size?
Ethereum operates on a decentralized storage system with a peer-to-peer network of user operators who hold a portion of the data and create a strong file storage sharing system. The blockchain can serve as a decentralized storage system, and it does so when it comes to smart contracts' code storage. It was not designed for handling massive volumes of data, nevertheless. Although the chain is constantly expanding, it is currently between 500GB and 1TB in size (depending on the client), and every node on the network must be able to hold all of the data.
Also read: Metamask vs. coinbase wallet | Best crypto wallet comparison
Who are the top ETH competitors?
Some of the top ETH competitors or alternatives are- 
Solana – Solana native currency is SOL with a market cap of 15.79 billion USD. Several large financial institutions like JPMorgan and Bank of America are bullish about its prospects. 

Cardano – Cardano is a potential Ethereum substitute that is more environmentally friendly. The current market value of its native currency, the ADA, was roughly 18.25 billion USD.

Tezos – Tezos is another decentralized application blockchain. The native currency of Tezos has a current market cap of 1.73 billion USD.

Polkadot – The native currency of Polkadot is DOT with a current market cap 11.01 billion USD.
Why is Ethereum better than Bitcoin?
Ether and Bitcoins are the two leading cryptocurrencies in the market. Bitcoin has a market cap of 380 billion USD while ETH's market cap is 180 billion USD. But why is Ethereum better than bitcoin. Ethereum has more real-world applications like NFTs, smart contracts, and decentralized finance protocols.  Bitcoin is primarily known as a store of value and for transactions. Ethereum will soon be converting proof of stake mechanism and will be running on superior technology. The blockchain will be faster, cheaper, and better. Bitcoin remains on proof of work technology.
Also read: Polkadot vs Cardano | Compare Ecosystems, Features, Prices
Ethereum vs Bitcoin vs Polkadot
Ethereum is a decentralised blockchain platform that enables peer-to-peer networks to execute and verify application code in a safe manner, also referred to as "smart contracts." Participants will be able to conduct transactions without the necessity for a reliable intermediary or centralized authority. Ethereum shifted to Proof of stake protocol in 2022. 
Polkadot is a multichain network can handle transactions between para chain or parallel chain. Polkadot has over 100 chain linked to the network and has speed of 1,000,000 transactions per seconds. 
Bitcoin was the first online cryptocurrency launched in 2009.  It was pioneer to cryptocurrency. Bitcoin uses proof-of-work network, which allows the network nodes to concur on the state of all information collected and guards against certain network assaults.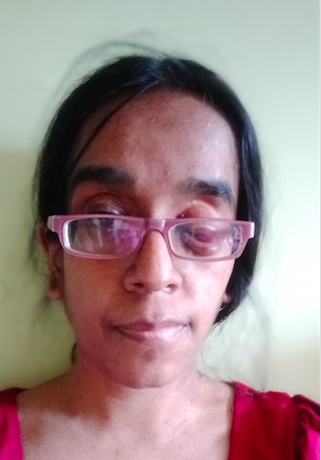 Shubha writes blogs, articles, off-page content, Google reviews, marketing email, press release, website content based on the keywords. She has written articles on tourism, horoscopes, medical conditions and procedures, SEO and digital marketing, graphic design, and technical articles. Shubha is a skilled researcher and can write plagiarism free articles with a high Grammarly score.